March 21, 2023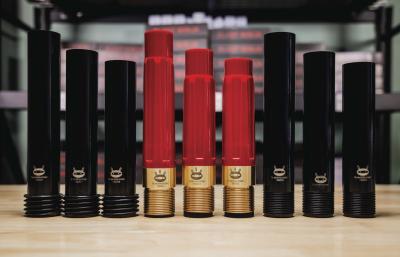 Kennametal Inc. is pleased to announce an important addition to its leading portfolio of abrasive blast nozzles for advanced surface preparation: the Blast Ninja™. Designed by Oceanit, a Honolulu-based 'Mind to Market' innovation company that develops disruptive technologies from fundamental science, the Blast Ninja is a premium nozzle delivering improved productivity and enhanced hearing protection in a military grade product that is compliant with OSHA guidelines.
A game-changer for the abrasive blasting industry, the Blast Ninja reduces air exit velocity while maintaining particle velocity, resulting in a significant reduction in noise production at the source while maintaining blasting production. This proven technology remains Kennametal-manufactured and is now available directly through authorized Kennametal distributors.
"Blast Ninja offers a new level of performance, hearing protection, and productivity," said Nick Pflugh, Vice President, Engineered Wear Components, "We are excited to provide our customers with a solution that increases operator safety while allowing them to work longer periods uninterrupted."
Dr. Sullivan, Oceanit's Founder and CEO, said "Blast Ninja is a great example of how methods and materials that were not available even 10 years ago can enable industrial tools to improve performance while reducing impact to the environment and society. We set out to create a disruptive technology in our labs that would protect operators while improving productivity. We took the fundamental aero-acoustic research from Mind to Market and are excited to see Kennametal make Blast Ninja nozzles the preferred choice for quiet nozzles."
The Blast Ninja proprietary technology leverages years of research conducted on jet engine noise reduction and was developed along with the U.S. Air Force Research Laboratory (AFRL) and the U.S. Navy's Office of Naval Research (ONR). Its patented design also offers enhanced hearing protection.
Compared to conventional venturi nozzles (outputting 115dB), the Blast Ninja has up to 17dB quieter noise output. This allows operators for more productive usage time per OSHA guidelines.

In proper conditions, Blast Ninja can meet OSHA's noise standard compliance 29 CFR 1910.95

of four hours of exposure, meaning that operators are protected and productive work time is improved.
Related Glossary Terms
abrasive


abrasive

Substance used for grinding, honing, lapping, superfinishing and polishing. Examples include garnet, emery, corundum, silicon carbide, cubic boron nitride and diamond in various grit sizes.
Additional Products from Kennametal Inc.