June 04, 2020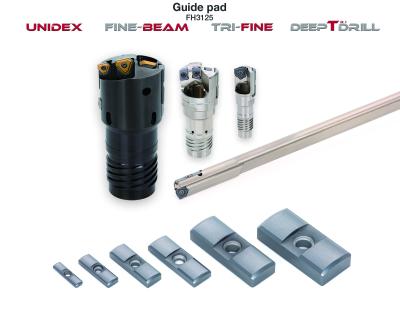 Tungaloy releases FH3125, a new guide pad grade for its indexable deep hole drill series, including DeepTri-Drill, TRI-FINE, FINE BEAM, and UNIDEX.
FH3125 is a new grade specifically developed to enhance the guide pad's wear resistance in machining various materials. The dedicated carbide substrate of the grade is designed to reduce guide pad breakage, providing long and predictable tool life in deep hole processes. The corners of both ends of the guide pad are designed to allow smooth entry into the guide bushing or pilot hole to control vibration impact and further decrease the risk of rupture.
At a Glance
Extremely wear resistant, long tool life
Process reliability in various materials
Secure drill entry into the guide bushing or pilot hole thanks to a smart corner design on both ends of the guide pad
Introducing 13 items
Related Glossary Terms
bushing


bushing

Cylindrical sleeve, typically made from high-grade tool steel, inserted into a jig fixture to guide cutting tools. There are three main types: renewable, used in liners that in turn are installed in the jig; press-fit, installed directly in the jig for short production runs; and liner (or master), installed permanently in a jig to receive renewable bushing.

wear resistance


wear resistance

Ability of the tool to withstand stresses that cause it to wear during cutting; an attribute linked to alloy composition, base material, thermal conditions, type of tooling and operation and other variables.
Additional Products from Tungaloy America Inc.