October 03, 2016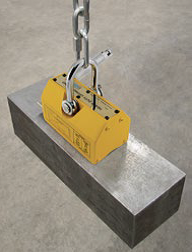 Master Magnetics' family of neodymium lifting magnets is flexing their muscle with the addition of a new, stronger capacity model. The newest addition has a lifting rating of 4,400 lbs. on flat material.
Master Magnetics' line of heavy-duty lifting magnets are a unique tool to help manufacturing engineers and managers increase operational performance while improving worker safety.
Heavy-duty neodymium lifting magnets provide extraordinary strength in a compact size, ensuring safety and speed for lifting heavy loads. Designed to lift both flat and round ferrous metal items, they are ideal for handling steel plates, forgings, die castings, and similar items in machine shops, warehouses and industrial processing plants.
Easily operated and lightweight, lifting magnets help turn the job of material handling into an efficient, easily harnessed task. They eliminate the need for clamps or slings, allowing one person to do the work of two or more.
The magnets are permanently magnetized, and do not require electricity to operate. Safely load and unload work pieces confidently, with the simple on/off lever and locking mechanism.
Available in five models with flat lift ratings of 220, 660, 1,320, 2,200, and 4,400 lbs, the heavy-duty lifting magnets have remarkably small footprints ranging from 2.5" x 3.625" to 8.875" x 14.88". Higher lift rating models are available as special orders.
Virtually maintenance free, the self-contained unit only requires a basic wiping down and storage in a dry environment to keep the magnetic lifter operational.
Related Glossary Terms
flat ( screw flat)


flat ( screw flat)

Flat surface machined into the shank of a cutting tool for enhanced holding of the tool.