April 01, 2011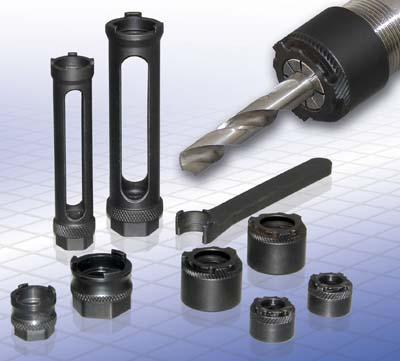 GenSwiss has introduced the EZR Swiss Clamp System for increased torque and enables fast and positive ER collet clamping. The new EZR system eliminates wrench slippage and losing clamping nuts in machine sump/chip bin, keeps machine operators hands clear of sharp tooling, prevents accidental breakage of expensive ID micro-tooling and permits achieving proper torque settings.
The Swiss clamp nuts replace standard Mini-Nuts and can be tightened using standard box wrenches or 3/8" drive ratchet wrench with either the EZR wrench adaptor or the EZR torque adaptor designed for greater clearance areas. Both adaptors engage and lock to the clamping nut with a specialized cam system on the face to deliver positive torque to the nut while eliminating slipping on the wrench and ensuring the nut does not drop into the machine sump.
The new EZR system is packaged as a kit that includes (6) EZR Swiss clamp nuts, (1) EZR wrench adaptor, (1) EZR torque nut adaptor, plus spanner wrench.