August 01,2014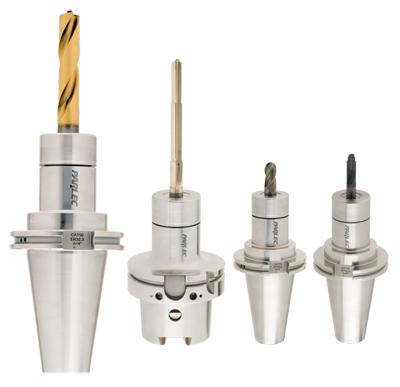 Parlec Inc. has introduced ERos, a simplistic, ultra precise, extreme performance toolholding system.
"The ERos system delivers high velocity and high performance without having to spend a considerable sum of money on startup costs," said Dave Hartman, Product Manager, Rotating Products, Parlec. "For little more than the cost of a quality ER Collet Chuck system, you can improve your cutting performance both in tool life and more importantly in production rate."
The ERos System provides ultra-precision concentricity of less than 0.00012" at 3 times the diameter. The unique design of the collet seat and collet nut combined with extremely tight manufacturing tolerances provide an added benefit of extremely high grip force. The chuck body and nut utilize two pilot diameters, one above and one below the threads, to enhance the nut's radial position to the seat, eliminating any clamping distortion.
All holders are balanced to G2.5 and the aerodynamic design of the nut provides extreme performance at high speeds without detrimental effects of unbalance or vibrations, according to the company.
Related Glossary Terms
chuck


chuck

Workholding device that affixes to a mill, lathe or drill-press spindle. It holds a tool or workpiece by one end, allowing it to be rotated. May also be fitted to the machine table to hold a workpiece. Two or more adjustable jaws actually hold the tool or part. May be actuated manually, pneumatically, hydraulically or electrically. See collet.

collet


collet

Flexible-sided device that secures a tool or workpiece. Similar in function to a chuck, but can accommodate only a narrow size range. Typically provides greater gripping force and precision than a chuck. See chuck.