October 25, 2018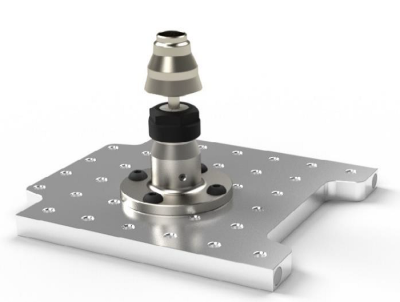 Phillips Precision Inc. announces its new ER collet chucks as part of the Inspection Arsenal LEAN, quick-swap inspection fixture system. Not only does Phillips Precision offer the only quick-swap standard fixture systems, but they provide quick, creative fixture design and quick shipping of your orders. Inspection Arsenal tooling will help optimize your inspection process and uncover hidden profits.

The ER collet chucks are suitable for holding small-diameter parts. Two sizes are available to meet your needs: the ER-11 holds parts from 0.012" to 0.312" in diameter and the ER-16 collet (pictured) holds larger diameter from 0.012" to 0.406" in diameter and features a flanged base for added stability.

Both sizes include a through-hole to add a depth stop. The collets are made from 303 stainless steel for durability and corrosion resistance. Collets can be used individually or in a multiple part set-up.

The ER-11 and ER-16 collet chucks can be used on our quick-swap Loc-N-Load Plates or on existing plates with 1" or ½" hole patterns. Collets sold separately.