April 20, 2020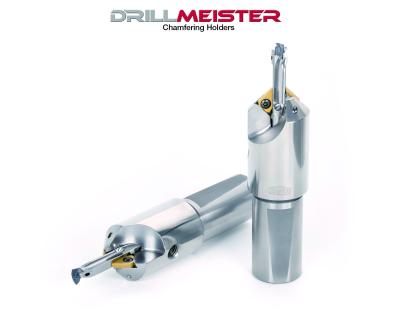 Tungaloy is expanding its successful exchangeable-head DrillMeister drill series to include additional lines of chamfering holders for machining smaller diameter holes.
DrillMeister features a unique self-locking interface that interlocks between the drill head and shank body allowing a simple and quick tool exchange. Operators can replace a drill head without removing the entire drill from the machine spindle or re-measure of tool offset vales, which saves time.
DrillMeister offers the TIDCF chamfering holder that can be attached to the TID drill shank allowing chamfering and drilling in a single pass for reduced machining times. The chamfering inserts are available for 30°, 45°, and 60° chamfers. The new TIDCF holder line can accommodate smaller drills in diameters from 7.5 mm to 9.9 mm (.295" - .390") for improved machining processes.
Dedicated chamfering holder that can be assembled on the drill
New drill heads are available in diameters from 7.5 mm to 9.9 mm (.295" - .390")
Chamfer angles include 30°, 45°, and 60°
Total of 15 items to be added
Related Glossary Terms
chamfering


chamfering

Machining a bevel on a workpiece or tool; improves a tool's entrance into the cut.

shank


shank

Main body of a tool; the portion of a drill or similar end-held tool that fits into a collet, chuck or similar mounting device.
Additional Products from Tungaloy America Inc.