May 13, 2020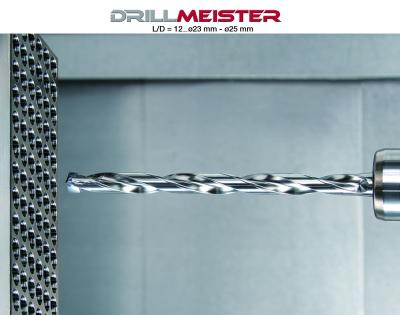 Tungaloy's DrillMeister line of head changeable drills now includes a new drill body in a length-to-diameter ratio of 12xD.
DrillMeister incorporates a unique self-locking interface that enables simple and secure drill head exchange. Since drill heads can be replaced without having to remove the drill body from the spindle, tool setup time can significantly be reduced, eliminating presetting, offset, and touch-off of the replaced tool.
The new 12xD drill body will cover drill diameters from 23 to 25 mm or from .394″ to .433″. The drill body has high helix helical flutes that are optimized to efficiently remove chips from the cutting point to the outside. This enables higher feeds and speeds as well as exceptional machining reliability. The DMC style drill head is a good option for high precision and efficient deep drilling; its optimized margin design and self-centering capability provide high hole precisions without the need for a pilot hole, significantly reducing cycle time during deep hole applications.
The new drill body features a cylindrical shank that is precision-ground with no flats. This ensures close runout accuracy and high torque transmission when clamped with a full surface contact in a high-precision collet chuck, milling chuck, or hydro-chuck holder.
At a Glance:
Drill diameters: 23 mm to 25 mm or .394″ to .433″ in a length-to-diameter ratio of 12xD
High helix helical flutes ensures efficient chip evacuation during deep hole applications
Unique self-locking interface ensures easy and secure head replacements
Enables high precision deep hole drilling with the same precision achieved with solid carbide drills
Ideal for the use with a high-precision collet chuck, milling chuck, or hydro-chuck holder
Total of 6 items to be introduced
Additional Products from Tungaloy America Inc.