January 19, 2017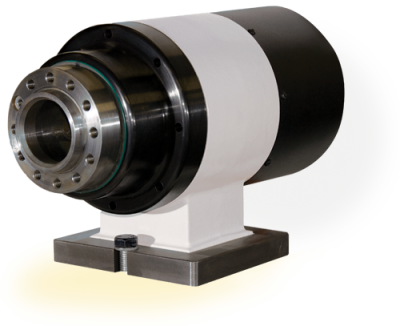 When machining requires high-speed performance, Troyke's direct-drive spindles deliver precision and control. Direct motor-to-spindle connection eliminates any chance for gear error, allowing for a high degree of accuracy. Available as single- or dual-axis units for machines equipped with linear motors and conventional ballscrews.
Standard Features:
· Speed Ranges to 600 rpm
· Load Capacity 50 lbs.
· Resolution 0.001°
· Tilt Axis Range +/-120°
Position Feedback:
· Renishaw RESM 209 Encoder Ring
· Fanuc Aicz Encoder Ring
· Heidenhain RON & RCN Encoders
· Barden ABEC 7 Spindle Bearings

Standard Torque Motors:

· Etel TMB Series
· GE-Fanuc DiS Series
· Siemens 1FW6 Series
· Kollmorgen
· I DAM

Optional Accessories:

· Manual Chucks
· 5C Collet Chucks and 16C Collet Chucks
· Faceplates
· Mandrels
· Controls (Single and Dual Axis)
Related Glossary Terms
collet


collet

Flexible-sided device that secures a tool or workpiece. Similar in function to a chuck, but can accommodate only a narrow size range. Typically provides greater gripping force and precision than a chuck. See chuck.