July 01,2010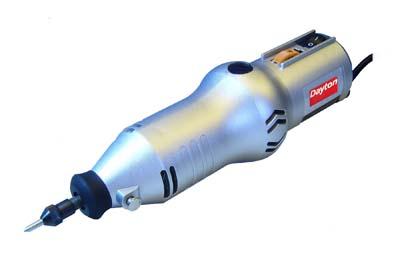 Tools, machinery and equipment with the versatile Dayton Electric Rotary Engraver from Grainger. This rotary tool can etch fine lines to deep grooves in metal, plastic, glass, ceramic or wood. The 2LKU6 features a die cast aluminum body, 1⁄8" collet chuck with lock-out collet button for quick accessory changes plus an adjustable five-position speed control dial to control engraving depth and tool speed. It is sold with a replaceable carbide point and the collet chuck will accept all 1⁄8" shank accessories.
Related Glossary Terms
chuck


chuck

Workholding device that affixes to a mill, lathe or drill-press spindle. It holds a tool or workpiece by one end, allowing it to be rotated. May also be fitted to the machine table to hold a workpiece. Two or more adjustable jaws actually hold the tool or part. May be actuated manually, pneumatically, hydraulically or electrically. See collet.

collet


collet

Flexible-sided device that secures a tool or workpiece. Similar in function to a chuck, but can accommodate only a narrow size range. Typically provides greater gripping force and precision than a chuck. See chuck.

shank


shank

Main body of a tool; the portion of a drill or similar end-held tool that fits into a collet, chuck or similar mounting device.