April 10, 2017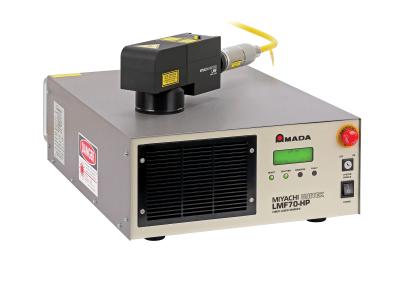 Amada Miyachi America Inc. announces the availability of the LMF70-HP, an addition to its popular LMF series of lasers. The 70-watt LMF70-HP is suitable for welding small components and thin metals up to 0.01-inch (0.25 mm) thick. It is particularly well-suited for welding battery tabs to cans (two thin sheets of metal), but can also weld thin wires (thermocouples, guide wires). In addition to welding, the unit is capable of engraving, deep engraving and cutting metal, plastic welding and general-purpose high-speed marking.
The laser is offered as an OEM product with galvo scanning beam delivery and controller or integrated into the LMWS platform, a CDRH Class 1 laser workstation that offers a range of integration flexibility, depending on processing and facility requirements.
The LMF series lasers combine cutting-edge technology with industrial robustness, according to the company. This series has numerous performance features to match the right laser to the right application. The system is designed with multiple integration options to suit stand-alone operation, full production automation, as well as low-volume prototype development. The air-cooled, sealed industrial package has been designed for operation in harsh environments and comes with powerful control software with user friendly interface. The unit complies with IEC13849‐1 category 3 Performance Level d (PL d) d safety circuitry with proper integration. It is equipped with a Marker Motion unit with integrated stage controllers for up to four axes, providing an economical motion platform.