June 05, 2019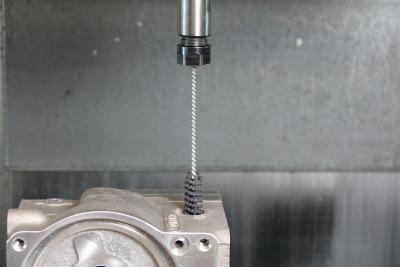 Weiler Abrasives has introduced its new line of CrossFlex honing brushes designed to provide machinists with performance and value for their professional honing applications. Available in small, medium and large diameters and with heavy-duty options, these brushes impart a surface finish free of metal burrs and are suitable for manual or automated use.
CrossFlex brushes provide a long operational life, lowering the total cost of use compared to other brush options. They are available in a variety of grits—120, 180, 240 and 320 grit—to achieve the desired finish, along with offering increased brush-to-part contact to remove even the heaviest burrs compared to nylon tube brushes. Flexible nylon stems distribute pressure evenly, self-centering within the part to create an accurate hone. Available collet-ready brushes deliver a true center rotation and exceptional brush balance for both hand-held and automated applications. CrossFlex brushes also feature a consistent cross-hatch pattern to ensure proper seating of piston rings and to retain oil for lubrication in combustion cylinders.
Understanding that not all finishing and deburring applications require a standard solution, Weiler Abrasives offers the option to work with one of its Weiler Process Solutions specialists to create custom CrossFlex brushes. Solutions include custom-sized brushes for specific bore diameters, brushes with longer or shorter stems, and brushes that are collet-ready or require another connection method. CrossFlex brushes can also be customized with the desired abrasive: silicon carbide, aluminum oxide, zirconia alumina or ceramic grains.
For honing applications, Weiler Abrasives recommends using honing oil with its CrossFlex brushes for engine cylinders and hydraulic oil for hydraulic applications. In deburring applications, the brushes are compatible with water-soluble and -synthetic coolants.
Related Glossary Terms
aluminum oxide


aluminum oxide

Aluminum oxide, also known as corundum, is used in grinding wheels. The chemical formula is Al2O3. Aluminum oxide is the base for ceramics, which are used in cutting tools for high-speed machining with light chip removal. Aluminum oxide is widely used as coating material applied to carbide substrates by chemical vapor deposition. Coated carbide inserts with Al2O3 layers withstand high cutting speeds, as well as abrasive and crater wear.