May 19, 2016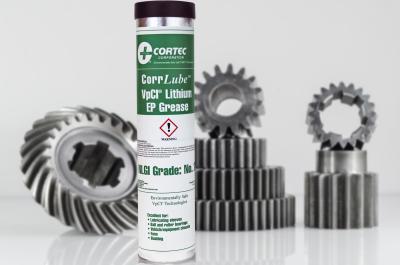 When it comes time to lubricate bearings, fans, chassis, or other metal areas where grease is applied, Cortec's CorrLube VpCI Lithium EP Grease offers longer lubrication enhanced with superior corrosion protection—even for use on electrical connections.
CorrLube VpCI Lithium EP Grease is a lithium complex grease formulated with severely hydro treated base stock. It provides excellent resistance to oxidation and has high temperature stability; it is suitable for both operating and lay-up conditions. This lubricant's formula is specifically designed with corrosion inhibiting properties against salt water, brine, H2S, HCl and other corrosive agents. In addition, it incorporates Vapor phase Corrosion Inhibitors (VpCI) for areas not in direct contact with the grease.

Advantages of CorrLube VpCI Lithium EP Grease include a cleaner application experience with decreased dripping and spattering. It lubricates for longer periods of time and increases the effectiveness of seals to keep out contaminants. This is an excellent product for use on equipment that operates intermittently.

CorrLube VpCI Lithium EP Grease remains effective even in extreme operating conditions (i.e., high temperature, high pressure, low speed/high pressure, and shock loading) and aids in the suspension of solid additives such as graphite, molybdenum, disulfide, etc. Its thicker film consistency allows it to operate on worn parts, provide surface protection against movement, and reduce noise level.

Specific applications include the following:
• Metal-to-metal
• Lubricating sleeves
• Ball and roller bearings
• Vehicle/equipment chassis
• Fans
• Bushings
• Pulley bearings
• Sliding high-friction areas
• Generator end bearings

CorrLube VpCI Lithium EP Grease has been under successful use by a major mining equipment manufacturer in Finland. The company had been using grease from one of Cortec's competitors to protect electrical connections in control boxes. However, the grease was not performing well, and several areas were still corroding. Cortec's representative was able to offer CorrLube VpCI Lithium EP Grease as a more-effective product that would meet requirements of a dielectric test while being flame retardant (control boxes are located in mining equipment where burning chemicals cannot be used). Test results according to the ASTM D149 Dielectric Strength and Breakdown Voltage method exceeded expectations. The product was applied to vulnerable areas from a custom-designed tube at different coating thicknesses, depending on the extent of an area's corrosion exposure. Excellent results were obtained in the field. Cortec CorrLube VpCI Lithium EP Grease was easily applied, easily removed and continues to give long lasting reliable performance.
Related Glossary Terms
burning


burning

Rotary tool that removes hard or soft materials similar to a rotary file. A bur's teeth, or flutes, have a negative rake.

extreme pressure additives ( EP)


extreme pressure additives ( EP)

Cutting-fluid additives (chlorine, sulfur or phosphorus compounds) that chemically react with the workpiece material to minimize chipwelding. Good for high-speed machining. See cutting fluid.