July 15, 2021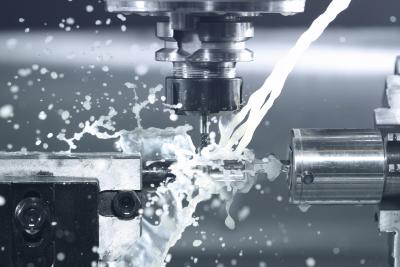 If you are working on machining aeronautical, medical or energy parts, you may be facing machinability problems with refractory materials, particularly with nickel alloys, titanium or stainless steel. These materials represent a challenge for your productivity because they require high cutting forces; their thermal conductivity is very low and their hardness remains high even at elevated temperatures. You are probably looking for solutions to increase your cutting speeds and improve the life of your tools which tend to degrade rapidly.
ALTILUB 700, for super alloys
Based on its expertise, CONDAT has developed ALTILUB 700, a high performance lubricant solution dedicated to the machining of super alloys.
Featuring a unique and innovative lubricating phase, ALTILUB 700 demonstrates increased wettability and lubricity. It thus improves your cutting conditions while extending your tools life.
Translucent and free of mineral oil, boron or allergenic bactericide, it contributes to the cleanliness of your parts and your production facilities.
Product benefits
Optimal for high pressure systems
Mechanical stability and low concentration
No foaming and fast deaeration (pressure >150 bar)
ALTILUB 700 improves your cutting conditions
Reduction of your scrap
Increased tool life
The success story of Rochette Group
For the machining of sensor supports in INCONEL 718 on a MAZAK INTEGREX 200-IV ST machining center, the Rochette Group was looking to increase its tool life.
The CONDAT experts have focused on 2 types of tools; roughing and finishing cutting tools. Further to the onsite study and careful listening of the customer's needs, CONDAT experts launched a trial phase with ALTILUB 700 in July 2020.
Thanks to the very high lubricating and cooling power of ALTILUB 700, the temperature is controlled immediately during machining, the Rochette Group has noted excellent dimensional and geometric stability of its parts and above all, its tool life has doubled!
Additionally, the absence of foaming and the high stability of ATILUB 700 have resulted in better decantation and separation of pollutants.
Finally, the working areas have become much more pleasant for the employees thanks to a noticeable reduction of mists and fumes and cleaner machines and windows. The air quality in the workshops has been improved; even the air conditioners have benefited from this change as their maintenance has frequencies have been reduced.
To try ALTILUB 700 now and get advice tailored to your needs, contact CONDAT.