December 28, 2015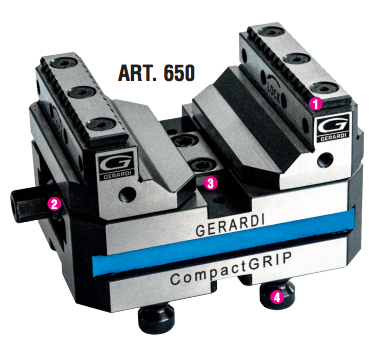 Italian workholding manufacturer Gerardi SPA offers its new line of self-centering CompactGRIP vises for 5-axis machining. The line offers higher clamping power than existing vises, because the clamping screw design is positioned very close to the workpiece and the integral design of slides and jaws, according to the company.
The vises allow for different gripping methods based on workpiece material, thanks to the reversible jaws and the four available base positions. Grips are available for standard workpiece hardness, hardened workpieces, soft materials, and finish machining. CompactGRIP is also compatible with the most common pallet change systems.
Click here for more information.
Related Glossary Terms
hardness


hardness

Hardness is a measure of the resistance of a material to surface indentation or abrasion. There is no absolute scale for hardness. In order to express hardness quantitatively, each type of test has its own scale, which defines hardness. Indentation hardness obtained through static methods is measured by Brinell, Rockwell, Vickers and Knoop tests. Hardness without indentation is measured by a dynamic method, known as the Scleroscope test.