August 01, 2015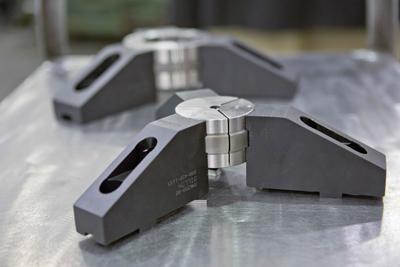 Collet pads and collet pad jaws from Dillon Chucks & Jaws are specially designed, quick-change tooling for machining small diameter parts. Collet pads can be changed quickly maximizing production time, and the jaws can be adapted to many styles of chucks, making them ideal for machining of stems, spools, crimp assemblies, manifolds for high pressure air systems, medical parts, miscellaneous fittings, mechanical and transmission components and specialty valves, and more. Metal-to-metal fits maintain accuracy.
A collet pad top jaw system increase a chuck's range of workholding capabilities, allowing more varied part geometries to be machined with the same jaw system. With optimized collet pad jaws and collets, machining routines can be more aggressive, resulting in shorter cycle times and more consistent quality output as well.
Changing to collet pad jaws is easily accomplished and requires just a jaw change. The time required to change jaws and collets is generally accomplished in a few minutes and is much quicker than changing entire chucks which may take as long as several hours to complete the changeover. Machinists using collet pad jaws are able to maximize their chuck capabilities and investment by taking advantage of both chuck and collet pad work, including the ability to run material that is hex or square in shape.
Related Glossary Terms
chuck


chuck

Workholding device that affixes to a mill, lathe or drill-press spindle. It holds a tool or workpiece by one end, allowing it to be rotated. May also be fitted to the machine table to hold a workpiece. Two or more adjustable jaws actually hold the tool or part. May be actuated manually, pneumatically, hydraulically or electrically. See collet.

collet


collet

Flexible-sided device that secures a tool or workpiece. Similar in function to a chuck, but can accommodate only a narrow size range. Typically provides greater gripping force and precision than a chuck. See chuck.