November 15, 2018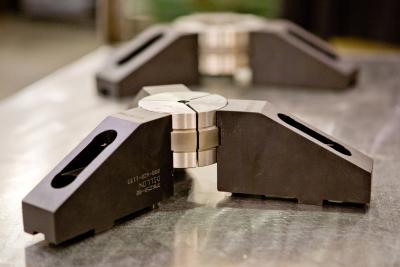 Collet pad top jaw systems from Dillon Manufacturing allow more aggressive machining to shorten cycle times while providing more consistent repeatability. Full contact of gripping surfaces provides a more stable grip and allows heavier cuts, while metal-to-metal fits ensure accuracy.
Round, hex, and square collet pad shapes with both smooth and serrated gripping surfaces available. The line includes collet pad top jaws and W&S solid emergency collet pads, as well as S-type, Gisholt, Jones & Lamson, and Martin collet pad types.
Dillon collet pads and jaws are suitable for precision boring, high-speed machining, tapping, drilling and finishing. They are especially suited for small-diameter machining of stems, spools, crimp assemblies, manifolds for high pressure air systems, medical parts, miscellaneous fittings, mechanical and transmission components and specialty valves.
All products are designed and manufactured by skilled and experienced engineers, using an integrated computer system tracks production, in ISO 9001:2015 facilities.
In addition to more aggressive machining, Dillon collet pad jaw systems increase a chuck's range of workholding capabilities, allowing more varied part geometries to be machined with the same jaw system. They can convert through-hole chucks to hold small bar and tube stock. They can be changed quickly – often in just a few minutes – with just a jaw change, whereas changing the entire chuck may require several hours of labor.
Machinists using collet pad jaws can maximize their chuck capabilities and investment by taking advantage of both chuck and collet pad work, including the ability to run material that is hex or square in shape.