July 29, 2019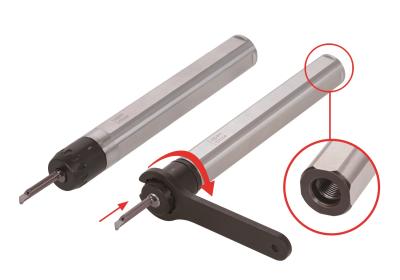 Tungaloy introduces a new line of collet chuck sleeves for the TinyMini-Turn miniature boring tool system, enabling a quick changeover of its solid-carbide boring bars.
TinyMini-Turn is a boring tool system consisting of solid carbide boring bars and sleeves, designed for high precision internal boring, grooving, and threading applications in extremely small diameters as small as 0.6 mm (0.024").
This new sleeve features an integrated collect chuck for precision clamping and repeatability as well as quick changeover of boring bars while the sleeve remains mounted in the tool post. A boring bar can easily be changed by operating the clamping cap equipped on the sleeve. In addition, the collet chuck provides full contact gripping on the boring bar shank for higher stability and repeatability over conventional bolt-clamp holders. The sleeve is capable of through-coolant supply for improved chip evacuation and tool life.
At a Glance:
Easy tool changeover
Clamping cap ensures easy changeover of boring bars
High repeatability
Collet chuck provides full contact gripping for higher indexing accuracy and repeatability
Easy coolant tube connection
R1/8 fitting threads is provided at the end of the sleeve for easy tube connection
Additional Products from Tungaloy-NTK America, Inc.