October 24,2018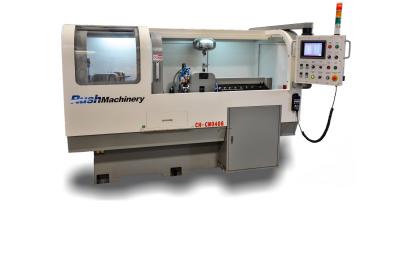 The CH-CM0406 Cut Pre-Point Chamfer Machine makes carbide blanks that are ready for tool grinding. The machine converts blank carbide rods into tool blanks. It is suitable for cutting tool manufacturers that want to make tools from a blank that is already pre-pointed and chamfered. The machine is easy to setup and runs unattended.
Pre-point angles are generated through interpolation. The interpolation is automatically calculated based on parameters entered by the operator during setup. The parts are held in place by two collets and the part is transferred from the cut and pre-point collet to the chamfer collet directly. A transfer device deposits the completed piece into the collection basket.
Related Glossary Terms
collet


collet

Flexible-sided device that secures a tool or workpiece. Similar in function to a chuck, but can accommodate only a narrow size range. Typically provides greater gripping force and precision than a chuck. See chuck.

grinding


grinding

Machining operation in which material is removed from the workpiece by a powered abrasive wheel, stone, belt, paste, sheet, compound, slurry, etc. Takes various forms: surface grinding (creates flat and/or squared surfaces); cylindrical grinding (for external cylindrical and tapered shapes, fillets, undercuts, etc.); centerless grinding; chamfering; thread and form grinding; tool and cutter grinding; offhand grinding; lapping and polishing (grinding with extremely fine grits to create ultrasmooth surfaces); honing; and disc grinding.

interpolation


interpolation

Process of generating a sufficient number of positioning commands for the servomotors driving the machine tool so the path of the tool closely approximates the ideal path. See CNC, computer numerical control; NC, numerical control.