May 13, 2016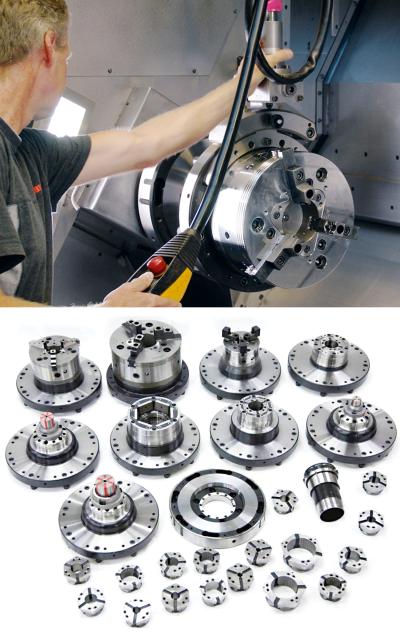 The centroteX System from HAINBUCH America offers significant advantages to manufacturers processing multiple parts of varying sizes requiring various clamping methods.
According to Dale Sonnenburg, HAINBUCH America engineering manager: "HAINBUCH's reputation for precision workholding is built around versatile high-precision chucks designed for the fast change of collets, bushings, jaws, and other clamping devices. The centroteX System takes this even further by facilitating the fast and easy changeover of the entire chuck. This not only increases the range of part diameters that can be machined, but extends the capability of the machine tool in terms of process variability. Further, it allows for workholding devices to be quickly and accurately mounted on multiple milling and turning machines within a manufacturing plant"
At the heart of the system is a precision-machined adaptor/flange plate aligned with centrex interface, equipped with a bayonet mount and a drawtube adapter. This in turn accommodates an extensive variety of chucks and holding devices that are easily connected and locked by six simple fasteners. Changeover time of the centroteX system is typically less than 6 minutes, while maintaining repeatability and changeover accuracy of less than 0.002mm.
A second element of the system is the Monteq mounting aid for large and heavy clamping devices. Used with a suspension bar on a lathe or an overhead crane, the Monteq offers improved balance and ease of component handling during changeover. Gradations on the device assist in the simple alignment of the horizontal axis, and non-threaded, quick-action bolts secure the workholding device for loading or removal.
A third element of the system is the clamping device container. Customized to hold chucks or other equipment when not in use, the ruggedly built unit moves on heavy-duty casters and features a retractable hood to shut out contaminants and maintain the integrity of the stored components.
In a current application, a centroteX customer utilizes nine different clamping devices allowing them to clamp O.D.'s ranging from 5mm to 265mm, and in IDs up to 160mm. All can be accomplished with one simple changeover taking less than 6 minutes.
Dale Sonnenburg states, "As important as setup time and extended machine utilization are, the advantage of centroteX is the ability to achieve both in the context of precision workholding."