April 12, 2012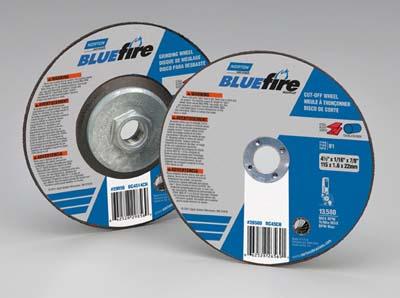 Norton is implementing a performance upgrade across their "Better" tier of metal fabricating abrasives products for portable grinding applications. Products in the tier will now be sub-branded as Norton BlueFire and feature a zirconia alumina grain with properties that enable significantly improved performance.
"Our new generation NorZon grain has been tested across many product lines and has consistently resulted in performance improvements of up to 30 percent compared to the previous NorZon product," said David Long, Director of Marketing and Strategy at Norton Abrasives.
Currently Norton "Better" fiber discs, flap discs, coated abrasive belts and portable wheels, cones and plugs have been upgraded to the new grain. In addition, current Charger depressed center and cut-off wheels and NorZon paper discs, non-woven wheels and quick-change discs for portable grinding applications will be upgraded to the new grain over the next several months. All upgraded products will be unified under the Norton BlueFire brand, designating their "Better" tier abrasive products for the entire metal fabricating offering.
Related Glossary Terms
abrasive


abrasive

Substance used for grinding, honing, lapping, superfinishing and polishing. Examples include garnet, emery, corundum, silicon carbide, cubic boron nitride and diamond in various grit sizes.

coated abrasive


coated abrasive

Flexible-backed abrasive. Grit is attached to paper, fiber, cloth or film. Types include sheets, belts, flap wheels and discs.

grinding


grinding

Machining operation in which material is removed from the workpiece by a powered abrasive wheel, stone, belt, paste, sheet, compound, slurry, etc. Takes various forms: surface grinding (creates flat and/or squared surfaces); cylindrical grinding (for external cylindrical and tapered shapes, fillets, undercuts, etc.); centerless grinding; chamfering; thread and form grinding; tool and cutter grinding; offhand grinding; lapping and polishing (grinding with extremely fine grits to create ultrasmooth surfaces); honing; and disc grinding.