May 13,2013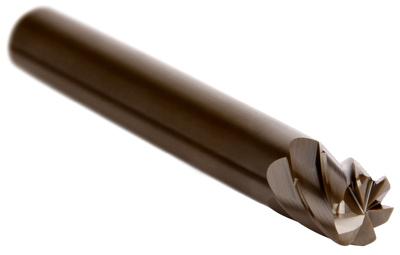 Perhaps the most basic assumption in machining is that cutting high-strength materials takes higher-strength tools. Proprietary nickel-based alloys used in gas and steam turbines, for example, are among the world's strongest materials, continually being developed to allow power plants to run at much higher temperatures. This not only provides more power to those that need it, it increases plant efficiency and reduces or eliminates harmful emissions. Superalloys, such as Inconel, Waspaloy, Rene and others come into play in turbine blades and other parts that require high strength, excellent high temperature creep resistance, phase stability, and resistance to oxidation and corrosion.
But machining such materials can be a slow, laborious, and cost-intensive experience. In general, solid carbide tooling commonly runs at speeds between 65 and 200 SFM (20 to 60 m/min) in such materials with limited tool life. New Beyond KYS40-grade solid ceramic endmills from Kennametal, however, are presenting orders-of-magnitude improvements in machining high-strength nickel-based alloys, roughing at cutting speeds up to 3,300 SFM (1000 m/min) with tool life two to three times longer than comparable solid-carbide tools.
Cutting tools made of ceramics, mainly aluminum oxide have existed since the early 20th Century. Patents on ceramic cutting tools were issued in Germany in 1913 and were commercially available in the US in the 1950s. Ceramic indexable inserts have their place today because they can operate at higher speeds in selected applications, but solid ceramic end mills were rarely seen because such tools were more brittle than carbide and did not perform well. In fact, many turbine manufacturers have taken to producing their own solid carbide end mills in house due to the high consumption of these tools.
Kennametal's new SiAlON KYS40 ceramic grade and the overall design of the solid ceramic endmill now offers the most effective way to rough nickel-based high-temperature alloys. "Cutting speeds on nickel-based superalloys can be up to 20 times higher compared to solid carbide end mills, and due to ceramic's outstanding heat resistance and stronger cutting edges (negative rake), tool life can last five times longer or more," says Thilo Mueller, global product manager at Kennametal.
Two types of KYS40 solid ceramic end mills are available, a six-fluted version for face milling and profiling; and a four-fluted, necked version for slot milling and pocketing. Both product lines allow ramping, helical interpolation, and trochoidal machining strategies as well.
The wear mechanisms and wear indication on the solid ceramic end mills is completely different from carbide, allowing running ceramic end mills far beyond the point where carbide tooling would need to be replaced. That's also the reason that this new KYS40 grade end mill is a throw-away type of tooling to allow usage beyond regular type of wear.
Whether powered by fossil fuels, hydro, or nuclear power, almost all electrical power on earth is generated by a turbine of some type. Producing, managing, and maintaining these critical components are vital to keeping the power flowing.
This puts a lot of pressure on manufacturers to continually update their machining strategies. Many factors affect this: are large numbers of similar blades required or small volumes of different blade designs? Are multiple setups and machining centers involved or single multi-axis multitasking machines? What is the CAD/CAM system being used and what is the expertise of the operators?
And, of course, what are the best tooling choices for the machining operations? Recent test results involving the new KYS40 solid ceramic end mill are insightful.
First of all, the KYS40 Beyond grade ceramic in both the four-flute and six-flute versions features an enlarged core design that improves tool rigidity and reduces deflection at high cutting speeds. Optimized end geometry and a 40-degree helix angle increase shearing action and chip evacuation.
In roughing the profile of a small turbine blade made of Inconel 718, machined dry, the EADE four-flute end mill was run at 645 m/min (2116 SFM), fed at 0.03mm/z (0.0012 IPT). Depth of cut was 0.5mm (0.0197 inches) and width of cut was 11.4mm (0.866 inches). Compared to a conventional solution, the EADE four-flute mill lasted three times longer doing the roughing in less time. This application resulted in three times more parts being produced per mill.
The six-flute EADE solid ceramic end mill was tested profiling a blisk (blade integrated disk) made of Inconel 718 and run with compressed air for chip evacuation. Unlike conventional carbide tooling, roughing to near net shape creates chips closer to dust than traditional curled chips, requiring only compressed air to blow them out of the cut. Test conditions were cutting speed of 679 m/min (2228 SFM), feed of 0.03mm/z (0.0012 IPT), and the depth of cut varied up to 0.5mm (0.0197 inches).
The results were two blisk segments machined with one tool at a 12-minute machining time per segment, which test personnel deemed "unprecedented."
The new EADE solid ceramic end mills are also featured in the new, easy-to-use "Kennametal Innovations" iPad app, free to download from the iTunes App Store. The app's simple navigation makes it easy to search via keywords to find specific tooling solutions and product groups.
Among the key features:
Product animations provide clear visual representations of processes with direct links to detailed information.
A navigation map offers drop-down menus with supplemental information, including expandable and customizable, charts and graphs.
User-driven navigation with selectable data provides quick, convenient comparisons to complimenting and competitive products.
Demonstrations and application videos provide valuable, real-world experience of the tooling technologies in actual use.
Kennametal is offering the new KYS40 ceramic end mills in the range of 3/16 to ½ inch (4 to 12mm). Running the tool does not require use of special clamping, the use of common high performance collet, power, or hydraulic chucks is fully sufficient, although the chuck must be able to run at the high speeds necessary for superalloy machining. To ensure highest tool life, final balancing is recommended.