November 21, 2017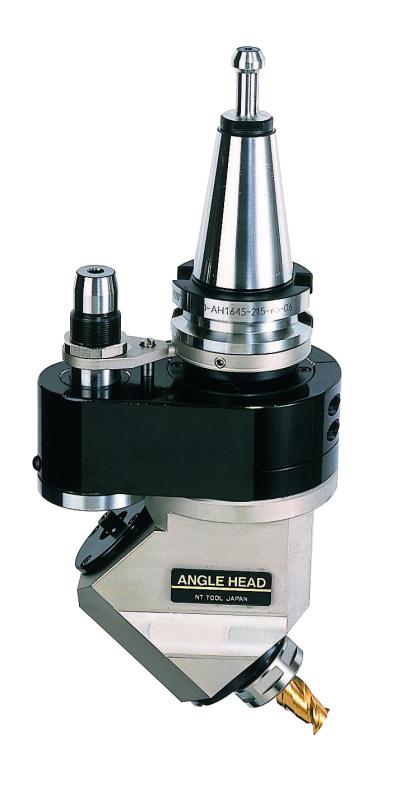 NT Tool's angle heads add a new cutting axis to existing machines, allowing you to machine from additional angles without the need for tilt tables. By building a new axis into the toolholder itself, machining plants can save greatly on setup costs and expensive investments in new machinery.
The angle heads come in fixed angles of 45° and 90°, as well as a flexible model that can be set to any angle in between as needed to reach otherwise inaccessible areas. On both models, the angled portion of the holder can be rotated freely 360°, allowing the new axis to face any direction required. All fixed models come with an external nozzle for directing coolant at the cutting surface, and center-through coolant can be added upon request (coolant not available for flexible type).
NT Tool's angle head models utilize a range of collet sizes, which allow any tool from 0.5mm (0.02") to 20mm (0.787") to be chucked. Even taps can be chucked, using the company's tension/compression tap adapters. The plunger used to lock the unit in place to a machine spindle is offered in many different lengths, which allows installation on any spindle surface configuration.
Many companies only offer a single plunger length, which requires extensive setup work or manufacturing of custom base plates just to install the unit, according to NT USA. Machines with spindle surfaces extending past the gauge line may not be able to use those angle heads at all. By offering a wide range of plunger lengths, these angle heads fit on a much wider range of machines, and with less setup time. NT Tools' angle heads are also compatible with ATC arms, allowing them to be mounted as easily as any other tool holder after the initial setup is complete.
The angle heads are available in CAT, HSK and BT shanks, with other shanks readily accommodated as custom orders.