October 14,2021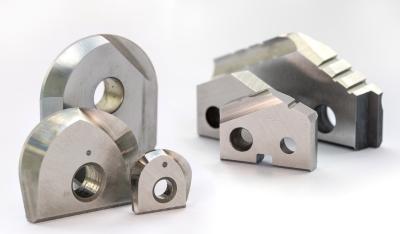 Solid endmill and drill production is a highly competitive market, making it challenging to differentiate yourself from your competitors. Inserts for milling and drilling applications offer various advantages over solid carbide tools, but present unique challenges in manufacturing. For those that successfully master the production of insert tools, new market opportunities can be yours. ANCA's insert grinding solutions may just be the answer you need to take this step.
Inserts appeal to users of tools, firstly because one tool body can take a variety of inserts, making them very versatile. Additionally, the cost of replacing just the insert is significantly less than an entire solid carbide tool. For insert manufacturers however, the challenge is automated production of these uniquely shaped parts.
The ANCA Insert Solution, based on the MX tool grinding machine platform, offers work-holding, automation and supporting tool programming software to produce a diverse range of rotary endmill and drill inserts. Inserts that feature common locating datums and clamping features are an ideal fit for the ANCA Insert Solution.
ANCA's unique Insert Chuck provides the foundation of insert grinding capability. Its versatile design means one chuck can hold a variety of inserts with precise repeatability and necessary rigidity during the grinding operation. Onto the standard chuck, interchangeable jaws are fitted in minutes. These jaws are custom designed based on the insert datum and holding features, as well as considering wheel clearance for necessary grinding operations. ANCA will work with you to design jaw sets that cover your complete insert design and size range.
Economical production requires automation. For insert grinding, the RoboMate robot loading system is kitted up with the dedicated pallets and grippers for unattended manufacturing. As with the chuck jaws, ANCA will collaborate with you to design a range to pallets and grippers that suit your inserts.
Comprehensive and flexible programming software is the final element needed for insert grinding. As always, ANCA has it covered with iGrind – our industry-leading tool programming software, that caters for various special endmill and drill insert geometries. In addition, special digitizing routines will determine the datum location and exact position of the insert before commencing the grinding operation. This ensures the insert production batch remains accurate and consistent, delivering quality results expected in the market.
Finally, with production flexibility in mind, the insert grinding system can be easily switched over to solid carbide tool production, meaning a given grinding machine is not locked into production of just one tool type. By switching the Insert Chuck for PremierPlus collet system, and replacing RoboMate pallets and grippers, the transition to solid tool production can be done quickly and efficiently, ensuring your machines productive grinding time is maximized and adaptable to your market demands.
The insert grinding solution is offered not only on new machines, but can equally be retrofitted on existing MX machines. Setting up for diversifying your cutting tool product portfolio to include inserts has never been easier. Having alternate production capabilities that can quickly be adapted to meet customer demands is a winning long-term strategy for the success of your tool grinding business.