January 17, 2019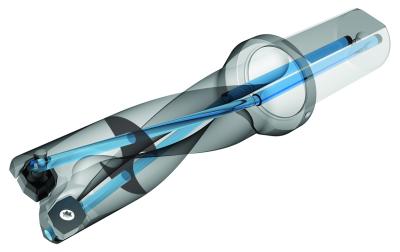 The new 4TEX drill from Allied Machine & Engineering is engineered to deliver optimal chip formation and evacuation and provide higher penetration rates than standard twist drills for light-duty machines. This indexable insert drill excels in applications with interrupted cuts or when drilling on angled surfaces. 4TEX is also ideal for making shallow 2xD, 3xD, and 4xD holes in the 12 - 47 mm (.472" – 1.850") range.
The design increases core strength, improving hole size and straightness. Dual twisted coolant outlets improve penetration rates by enhancing coolant flow and generating superior chip formation and evacuation. 4TEX inserts are four-sided to maximize the tool life of each insert.
Available geometries have been developed for steel, stainless steel, high temperature alloys, nonferrous and iron, which are optimized for excellent chip formation and wear resistance in difficult applications.