June 21, 2018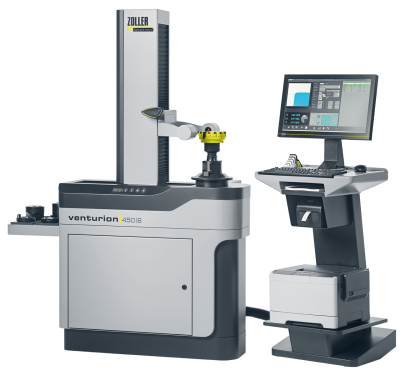 ZOLLER Inc. introduces the new ZOLLER »venturion«, a premium presetting and measuring machine for all kinds of tools. The »venturion« is made from the finest components to ensure ZOLLER users have a reliable machine to preset and measure all their tools for years to come.
Built with Bosch pneumatics, THK guideways, Uhing drives and Heidenhain glass scales, ZOLLER knows that quality counts. Fully CNC-drives for both the X- and Z-axis, as well as an autofocusing spindle allow for micron-precise measurements time after time.
With ZOLLER's A.C.E (All Clamping Elements) spindle, users enjoy a changeover accuracy of just 1 micron, ensuring consistent measurement results regardless of who is operating the presetter. ZOLLER's intuitive pilot 3.0 software makes measuring even the most complex tool geometries a simple task.
The new »eQ« one-hand control handle allows for ergonomic, comfortable maneuvering of the optics carrier. Data transfer is no longer a matter of manual entry into the machine control. With data output, users can send their tool offset information directly to the machine control from the pilot 3.0 software on the »venturion«, minimizing the potential for human-error and thus creating greater process reliability. The ZOLLER »venturion« provides fast tool measurement, enhanced flexibility, safe processes and the connectivity to prepare for Industry 4.0.
Related Glossary Terms
micron


micron

Measure of length that is equal to one-millionth of a meter.