July 21, 2016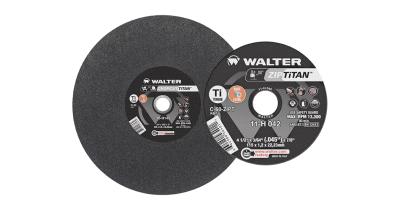 Walter Surface Technologies announced the release of its new Zip Titan and Chopcut Titan cutting discs, adding to their extensive line of world-class cutting abrasives.
The new Zip Titan and Chopcut Titan have been specifically designed for cutting titanium and brass with exceptional efficiency. "Both the Zip Titan and the Chopcut Titan were designed with a unique silicon-carbide based formulation to prevent the materials being cut from overheating," said Marc Brunet-Gagné, product manager, bonded abrasives at Walter Surface Technologies. "Keeping the metal cooler helps preserve the mechanical properties and surface integrity of titanium and brass."
The new Zip Titan and Chopcut Titan both boast a longer lifespan than other competing discs on the market. "The efficient cutting action of the wheel prevents it from overheating, which is the number one killer for cut-off wheels," elaborated Brunet-Gagné. "You will also get more cuts per wheel, as well as faster and freer cuts, which helps increase job productivity and lower labor costs."
Related Glossary Terms
mechanical properties


mechanical properties

Properties of a material that reveal its elastic and inelastic behavior when force is applied, thereby indicating its suitability for mechanical applications; for example, modulus of elasticity, tensile strength, elongation, hardness and fatigue limit.