September 20, 2017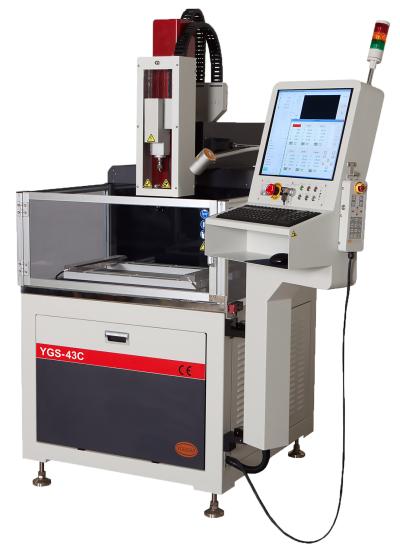 Absolute Machine Tools Inc., now the exclusive U.S. importer and distributor of EDMs and supplies from Yougar M&T Inc., has introduced the Yougar YGS CNC Moving Head series and YGS ZNC Manual series of EDM drilling machines.
The design of the YGS CNC Moving Head series ensures smooth motion and stability superior to that of fixed-head, moving-table style EDM drills. An automatic guide changer (AGC) enables easy automatic drilling of holes of different depths and long unattended operations. The machines offer up to 8 fully programmable axes, facilitating processing of complex manufacturing applications. Rotating brass or copper tubular electrodes from 0.1 mm – 3.0 mm (0.004" - 0.118") diameter perform drilling, while a high pressure pump provides adjustable through-spindle flushing from 0 - 750 psi to maximize performance with any electrode size.
A 17" touchscreen PC display enables operators to manually enter drilling positions or easily import them from a DXF file or wire EDM program file stored on an external source. USB or TCP/IP data transfer interfaces are standard. The built-in supply module for the dielectric system saves space and simplifies maintenance. Dielectric fluid is filtered from 3µm to 20µm via a standard replaceable paper filter cartridge. An ION quality sensor and mixed bed ION exchange resin monitors clean water to maintain proper conductivity. Maximum workpiece weight is up to 1,100 pounds. The machines support diverse rotary table manufacturers, tilting head (±45°) and multilingual operations.
The YGS ZNC series is comprised of economical high-speed EDM drilling machines that perform simple "start hole" drilling quickly and efficiently with electrodes in diameters ranging from 0.1 mm – 3.0 mm (0.004" – 0.118"). Featuring a 10µm extended life filter, resistivity senso, and ION exchange resin, the YGS ZNC series provides smooth reliable machining over long periods of time.
Related Glossary Terms
computer numerical control ( CNC)


computer numerical control ( CNC)

Microprocessor-based controller dedicated to a machine tool that permits the creation or modification of parts. Programmed numerical control activates the machine's servos and spindle drives and controls the various machining operations. See DNC, direct numerical control; NC, numerical control.

electrical-discharge machining ( EDM)


electrical-discharge machining ( EDM)

Process that vaporizes conductive materials by controlled application of pulsed electrical current that flows between a workpiece and electrode (tool) in a dielectric fluid. Permits machining shapes to tight accuracies without the internal stresses conventional machining often generates. Useful in diemaking.

wire EDM


wire EDM

Process similar to ram electrical-discharge machining except a small-diameter copper or brass wire is used as a traveling electrode. Usually used in conjunction with a CNC and only works when a part is to be cut completely through. A common analogy is wire electrical-discharge machining is like an ultraprecise, electrical, contour-sawing operation.