June 02,2016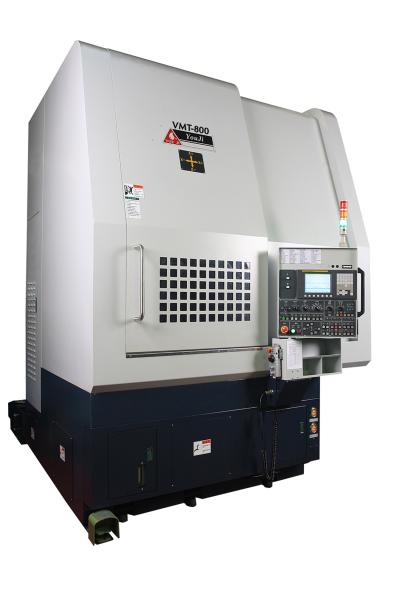 The new You Ji VMT-800 from Absolute Machine Tools Inc. is a versatile mill/turn multitasking machine well-suited for both oil and gas and aerospace manufacturing applications. This machine allows a manufacturer to perform vertical turning operations as well as five-face milling operations in one setup. This machine will increase productivity by largely decreasing machining time and avoid inaccuracies from multiple hands-on movement of the workpiece from one machine to another.
The heavy duty moving column design allows for robust turning as well as heavy milling because of heavy cast iron construction and rigid box ways. The rugged 20-hp, 50-taper, B-axis head allows for vertical/horizontal milling for true one-setup machining. The B-axis indexes 0-90 degrees in 5-degree increments. The 32-tool (60/90 optional) changer provides flexibility for complex parts manufacturing. Maximum swing diameter of the workpiece is 1,100mm (43.3") and maximum turning height is 900mm (35.43") allowing for large component piece manufacturing. The You Ji VMT-800 has a C-axis table for easy five-sided machining.
The VMT-800s generous axis travels are +/- 550mm (+/- 22") in X, 1,100mm (43.3") in Y, and 1200mm (47.2") in Z. A 35-hp spindle motor drives the standard 32" hydraulic chuck and provides 1,500 ft,-lbs, of turning torque. Fanuc CNC controls are standard.
Moving a workpiece from one machine to another and mastering the setup takes expertise. In today's workforce it is tough to find skilled workers that can do this without creating tolerance errors and the potential of scrapping an expensive workpiece. The You Ji VMT-800 eliminates these issues and increases throughput and profitability.