May 01, 2011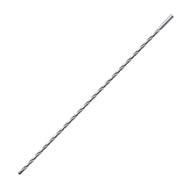 Deep holes in one operation — when it comes to this, the XD drills from the Walter Titex brand are reportedly unbeatable. This is true now more than ever, as they have reached a depth of 70xD. Standard depths are up to 30xD; Depths up to 70xD have been achieved in special cases. If we were talking about a slow and gradual approach to larger depths before, we can now talk about a leap.
Factors responsible for this huge increase in performance are essentially three special structural and manufacturing features: Walter is producing solid carbide blanks by applying a new method, which makes this type of long solid carbide twist drill possible. The finishing procedure utilizes a special grinding process. As is the case with all XD drills, cooling is provided by internal coolant channels. Despite the deep drilling depth, high-pressure coolant systems are not necessary.
"On the one hand, the XD70 is based on the technology from its shorter cousins, on the other hand, several unique details make it a completely new tool," according to product management at Walter.
The XD70 is currently being produced as a special tool, in diameters ranging from 0.197" to 0.472" (5 to 12mm). Two tip coatings are available depending on the material: TFP for soft steels and XPL for cast iron.
Related Glossary Terms
coolant


coolant

Fluid that reduces temperature buildup at the tool/workpiece interface during machining. Normally takes the form of a liquid such as soluble or chemical mixtures (semisynthetic, synthetic) but can be pressurized air or other gas. Because of water's ability to absorb great quantities of heat, it is widely used as a coolant and vehicle for various cutting compounds, with the water-to-compound ratio varying with the machining task. See cutting fluid; semisynthetic cutting fluid; soluble-oil cutting fluid; synthetic cutting fluid.

grinding


grinding

Machining operation in which material is removed from the workpiece by a powered abrasive wheel, stone, belt, paste, sheet, compound, slurry, etc. Takes various forms: surface grinding (creates flat and/or squared surfaces); cylindrical grinding (for external cylindrical and tapered shapes, fillets, undercuts, etc.); centerless grinding; chamfering; thread and form grinding; tool and cutter grinding; offhand grinding; lapping and polishing (grinding with extremely fine grits to create ultrasmooth surfaces); honing; and disc grinding.

twist drill


twist drill

Most common type of drill, having two or more cutting edges, and having helical grooves adjacent thereto for the passage of chips and for admitting coolant to the cutting edges. Twist drills are used either for originating holes or for enlarging existing holes. Standard twist drills come in fractional sizes from 1¼16" to 11¼2", wire-gage sizes from 1 to 80, letter sizes A to Z and metric sizes.