March 01,2014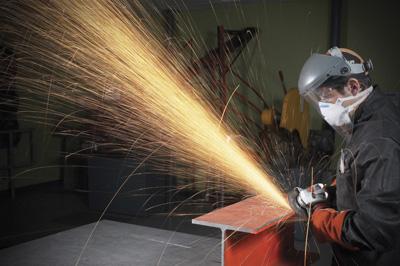 Walter Surface Technologies introduced XCAVATOR, the newest, most powerful member of Walter's family of high performance grinding wheels to date. Designed for the toughest, most demanding grinding jobs for a range of industry metal fabrication shops such as metal fabrication, steel mills, mining, oil and gas, and ship building, the XCAVATOR ultra high removal grinding wheel delivers heavy-duty performance and the highest level removal rate in the Walter range of industry-leading grinding wheel products, according to the company.
Tested on some of the world's hardest resources, including tungsten carbide, tempered steel, Inconel, Hardox, and Boron steel, XCAVATOR's extra aggressive, coarse front layer of enriched Zirconium grain has gone through rigorous testing to help deliver a high removal rates. A powerful wheel for powerful industry environments, XCAVATOR helps ensure optimal power transfer, from operator to working surface, for the toughest jobs.
XCAVATOR features an extra strong disc base/backing for more powerful and aggressive grinding action. It also features Walter patented UHR multi-layer manufacturing technology to prevent edge flakiness, keeping the wheel edge symmetrically round for more safety and longer life.
"Today's demanding fabrication environments require the utmost in power when it comes to grinding wheel technology and Walter has developed the new XCAVATOR to deliver this. Grinding represents a major part of shop costs and XCAVATOR stands tall as a heavy-duty grinding wheel that helps save time, save money and is built to last," said Jean-François Dubois, Director of Marketing.
Created for use with powerful grinding machines, XCAVATOR performs removes over 30 percent more grams per minute compared to other Ultra High Removal wheels, while at the same time absorbing vibrations, allowing this durable wheel to cost-effectively outlast all other grinding wheels in this category. Free of materials such as iron, sulfur and chlorine, XCAVATOR is virtually guaranteed not to contaminate surfaces such as stainless steel.
Related Glossary Terms
grinding


grinding

Machining operation in which material is removed from the workpiece by a powered abrasive wheel, stone, belt, paste, sheet, compound, slurry, etc. Takes various forms: surface grinding (creates flat and/or squared surfaces); cylindrical grinding (for external cylindrical and tapered shapes, fillets, undercuts, etc.); centerless grinding; chamfering; thread and form grinding; tool and cutter grinding; offhand grinding; lapping and polishing (grinding with extremely fine grits to create ultrasmooth surfaces); honing; and disc grinding.

grinding wheel


grinding wheel

Wheel formed from abrasive material mixed in a suitable matrix. Takes a variety of shapes but falls into two basic categories: one that cuts on its periphery, as in reciprocating grinding, and one that cuts on its side or face, as in tool and cutter grinding.

tungsten carbide ( WC)


tungsten carbide ( WC)

Intermetallic compound consisting of equal parts, by atomic weight, of tungsten and carbon. Sometimes tungsten carbide is used in reference to the cemented tungsten carbide material with cobalt added and/or with titanium carbide or tantalum carbide added. Thus, the tungsten carbide may be used to refer to pure tungsten carbide as well as co-bonded tungsten carbide, which may or may not contain added titanium carbide and/or tantalum carbide.