May 09, 2023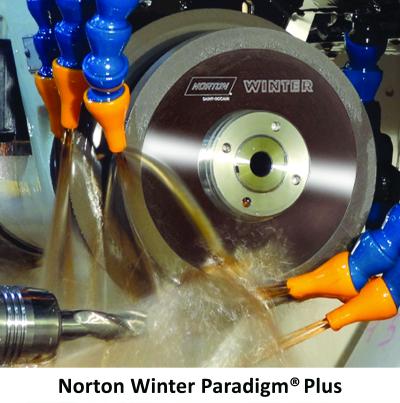 Saint-Gobain Abrasives, one of the world's largest abrasives manufacturers, announced the introduction of Norton Winter Paradigm® Plus Diamond Grinding Wheels featuring a new premium grain technology complementing the established proprietary, patented brittle-metal bond, resulting in a significant upgrade in performance on carbide round tools for fluting and gashing applications, and periphery grinding on carbide and cermet inserts grinding. Paradigm Plus wheels are the next generation of the popular Paradigm wheels and are in the Norton "Best Tier" of products. New grain technology, together with a new advanced lightweight core, produces lower specific cutting energy with a 25% to 50% higher material removal rate (MRR), and provides significantly improved wheel life when compared with current Paradigm wheels.
The new resin-based core, available for round tool grinding, is over 75% lighter and eliminates the risk of sparks while reducing chipping, breakage and chatter, for better finishing in round tool applications. The Paradigm bond, which combines the wear resistance of a metal bonded wheel with the ease of profiling in a vitrified bonded wheel, has up to 46% porosity enabling improved coolant flow for cooler cutting and reduced part burning, allowing for truing and dressing.
"We are pleased to offer our customers new Paradigm Plus wheels, which produce more parts per wheel, reducing total process costs and cycle times, while delivering better quality part edges and finishes," said Philip Varghese, Sr. Product Manager for Resin Bond Products, Superabrasives,
Norton | Saint-Gobain Abrasives. "The new lighter core also allows for safer and easier handling," added Varghese.
Norton Winter Paradigm Plus grinding wheels are made to order.
Norton Winter G-Force™ Plus Next Generation Diamond Wheels
Offered in the Norton "Better Tier" primarily for grinding round tools in fluting and gashing applications, new Norton Winter G-Force™ Plus Next Generation Diamond Wheels feature new premium grain technology with lower normal forces and higher performance, which is complemented by an improved hybrid bond technology providing significant improvement ranging from a 25% to 50% increased MRR, and longer wheel life when compared with current G-Force wheels. New G-Force Plus Wheels offer higher feed rates and reduced cycle times, resulting in more parts per dress and reduced process costs. Improved edge holding, better part quality and surface finish are all key benefits of the new wheels. G-Force Plus Wheels provide cooler cutting when grinding a range of heat- and wear-resistant materials.