July 20, 2021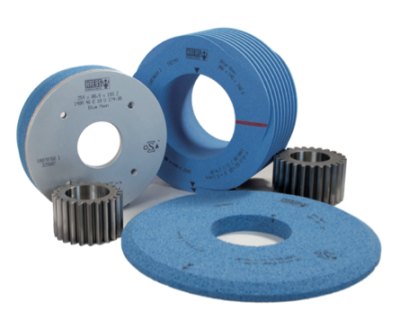 The Blue Moon TZ is an innovation developed by the R&D department of Krebs & Riedel. The Blue Moon TZ extends the Blue Moon product family. It is characterized by high cutting performance and high metal removal rates. The abrasive grain used in the Blue Moon TZ is very sharp-edged, microcrystalline and has an elongated trapezoidal rod shape. Blue Moon TZ grinding wheels are particularly impressive due to their very low thermal load in the contact zone. The high profile retention of our grit combination leads to extended dressing intervals at high stock removal rates and increases economic efficiency.
Your advantages at a glance
The advantages are particularly evident when processing long contact lengths. Typical applications include full cut grinding, raceway grinding and profile grinding of gears with large modules.
• Very low risk of overheating while grinding
• High removal rate
• Self-sharpening abrasive grain
• Short grinding times
• Reduced cost per unit
• Extended dressing intervals • Long tool life
Features
Individual specifications to your process by adjusting the grain concentration

Homogeneous, controllable pore space design

High friability during the dressing process

Applications

• Deep grinding
• Raceway grinding / Centerless grinding
• Applications with huge contact zones
• Gear grinding: Profile grinding for large modules
Industry sectors
Aerospace
Agricultural engineering
Automotive
Conveying technology
Commercial vehicles
Hydraulics
Rolling bearings
Wind energy