August 30, 2016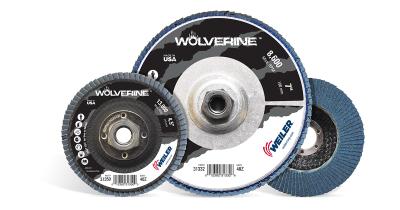 Weiler Abrasives Group has rebranded its Vortec Pro abrasive flap discs under its Wolverine family of products, and has also reengineered the discs to deliver maximum cut rate and increased life, all at an exceptional value, according to the company. Like other Wolverine brand products, the flap discs are for fabrication professionals who have grinding and blending needs for their everyday carbon and stainless steel applications.
The upgraded Wolverine flap discs feature a self-sharpening zirconia alumina grain to deliver aggressive grinding from start to finish, along with an improved cloth design that provides a 25 percent longer life compared to previous Vortec Pro products.
Weiler offers the Wolverine flap discs in both Type 27 and Type 29 styles, allowing for optimal angle of approach and finish. For fast changeover, the flap discs are available with a quick-change 5/8 inch – 11 nut, in addition to 5/8- and 7/8-inch arbors and a variety of diameters to fit all tool sizes. Fabricators can choose between a phenolic or a more rigid aluminum back, according to their needs and preference.
Wolverine flap discs are reportedly ideal for flat surface grinding, light pressure finishing/blending, weld grinding/blending, heavy stock removal, finishing and irregular surface applications.