April 03, 2021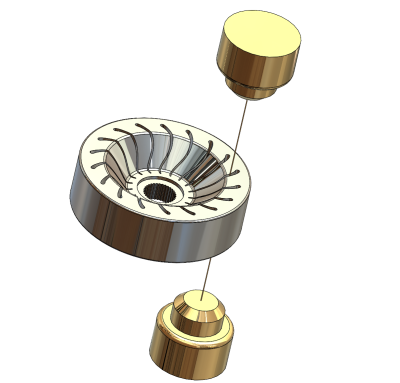 HCL Technologies (HCL), a leading global technology company, today announced a new wire EDM (Electrical Discharge Machining) module for the CAMWorks suite of CAD/CAM software. The wire EDM module includes new cutting-edge functionality that takes the design model to G-code in one click. Once the user clicks the "Solid to G-code" button, the system automatically searches the part for machine-able features, identifies them, generates all the operations with the users' preferences and settings (including tool offsets, cutting conditions and start holes), creates the toolpaths, and posts the G-code. Using the new wire EDM module, even complex 2-axis parts, 2-axis parts with tapers, and full 4-axis wire EDM parts can now be programmed in a single click.
The new CAMWorks wire EDM module also includes enhanced feature recognition for non-planar geometry. Instead of the user needing to project the geometry for the top and bottom of the part and create 2D sketches, the new wire EDM software uses geometry directly from the solid model to construct and create the correct top and bottom profiles automatically.
Additional highlights include automatic angular wire threading, support for SOLIDWORKS patterns, and automation based on face colors. Automatic angular wire threading analyzes the part and automatically recognizes when angular threading would be required. It then creates the toolpaths necessary to allow for angular threading of the wire and to machine the part. Support for SOLIDWORKS patterns simplifies the NC code and streamlines the programming process by automatically identifying the patterns and utilizing them to simplify the CNC program. The technology based on face colors allows the user to easily identify and manage features that are to be programmed, as well as how they need to be machined. By assigning a color to the face of a part or to the entire part, user-defined machining strategies are assigned automatically to streamline the programming process.
The technology included in the new module has been field tested on the most advanced EDM machines and is expected to position CAMWorks wire EDM module as the easiest-to-use, most advanced wire EDM programming package available.