August 30, 2016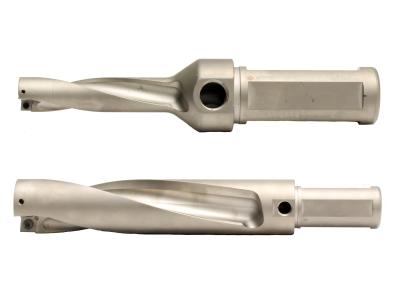 Sumitomo Electric Carbide Inc.'s WDX series large-diameter drill line now includes WDX-L coolant-through models. Reducing the cost per part, the WDX-L indexable drill features side port coolant. Because not all spindles are coolant-through, the WDX-L allows for the use of coolant through the side port. WDX-L diameters range from 0.5625" – 2.5000" in 4XD drill body lengths. The WDX-L accepts the same inserts as Sumitomo's conventional WDX series (WDXT inserts).
Diameters of the conventional WDX range from 0.5625" – 2.625" in 2XD, 3XD and 4XD drill body lengths. The WDX series is available in inch and metric sizes.
Sumitomo's vast selection of WDX and WDX-L bodies reportedly deliver a proven design for stable drilling. All drill bodies come with a four-cornered indexable insert design to provide a cost-effective drilling solution and easy tool management. The series uses two inserts per drill, regardless of diameter size. Insert grades for a longer tool life include ACP300 for steel, ACK300 for cast iron and DL1500 for aluminum.
Related Glossary Terms
coolant


coolant

Fluid that reduces temperature buildup at the tool/workpiece interface during machining. Normally takes the form of a liquid such as soluble or chemical mixtures (semisynthetic, synthetic) but can be pressurized air or other gas. Because of water's ability to absorb great quantities of heat, it is widely used as a coolant and vehicle for various cutting compounds, with the water-to-compound ratio varying with the machining task. See cutting fluid; semisynthetic cutting fluid; soluble-oil cutting fluid; synthetic cutting fluid.

indexable insert


indexable insert

Replaceable tool that clamps into a tool body, drill, mill or other cutter body designed to accommodate inserts. Most inserts are made of cemented carbide. Often they are coated with a hard material. Other insert materials are ceramic, cermet, polycrystalline cubic boron nitride and polycrystalline diamond. The insert is used until dull, then indexed, or turned, to expose a fresh cutting edge. When the entire insert is dull, it is usually discarded. Some inserts can be resharpened.