March 01, 2016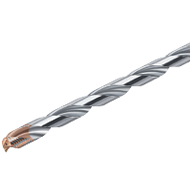 Walter USA LLC offers a solid-carbide, through-coolant drill for ISO-P and ISO-K materials. The design allows coolant flow to encompass the entire drill point, producing optimal cooling of both the drill and the tool/workpiece interface, according to the company. Controlling the coolant flow contributes to fine surface finishes, helping users avoid reworking holes. More material behind the cutting edge enhances sturdiness and boosts tool life stability and process reliability.
Related Glossary Terms
coolant


coolant

Fluid that reduces temperature buildup at the tool/workpiece interface during machining. Normally takes the form of a liquid such as soluble or chemical mixtures (semisynthetic, synthetic) but can be pressurized air or other gas. Because of water's ability to absorb great quantities of heat, it is widely used as a coolant and vehicle for various cutting compounds, with the water-to-compound ratio varying with the machining task. See cutting fluid; semisynthetic cutting fluid; soluble-oil cutting fluid; synthetic cutting fluid.