February 15, 2016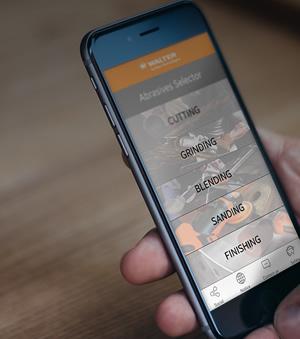 Walter Surface Technologies, Windsor, Conn., recently launched the Walter Abrasives Selector app designed to help metalworking professionals select the optimum abrasive solution for any possible application they may encounter, according to a company news release issued Feb. 9.
Available for all iOS and Android smartphones, the free app offers a simple user interface that reportedly makes it easy to select an operation—finishing, sanding, cutting, grinding or blending—specify a tool of choice, then select the desired finish, the company explained. The app also provides easy access to technical reference data, including safety data sheets, training videos and Walter product information.
Customers who download and install the new app between Feb. 9 and March 11 will be entered in a contest to win one of three $150 prepaid Visa gift cards. The drawing takes place March 14.
The Walter Abrasives Selector app is available through the Apple App Store (iOS 7.1 or later) and Google Play (Android 4.2 or later).
Related Glossary Terms
abrasive


abrasive

Substance used for grinding, honing, lapping, superfinishing and polishing. Examples include garnet, emery, corundum, silicon carbide, cubic boron nitride and diamond in various grit sizes.

grinding


grinding

Machining operation in which material is removed from the workpiece by a powered abrasive wheel, stone, belt, paste, sheet, compound, slurry, etc. Takes various forms: surface grinding (creates flat and/or squared surfaces); cylindrical grinding (for external cylindrical and tapered shapes, fillets, undercuts, etc.); centerless grinding; chamfering; thread and form grinding; tool and cutter grinding; offhand grinding; lapping and polishing (grinding with extremely fine grits to create ultrasmooth surfaces); honing; and disc grinding.

metalworking


metalworking

Any manufacturing process in which metal is processed or machined such that the workpiece is given a new shape. Broadly defined, the term includes processes such as design and layout, heat-treating, material handling and inspection.