January 08, 2019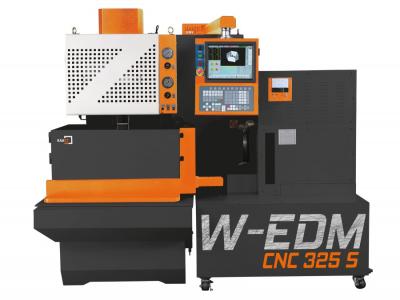 If you need an efficient, reliable way to cut and create the variety of tools your shop may need, then consider a KAAST Machine Tools CNC EDM. The company offers three EDM lines, the W-EDM wire sinkers (pictured), the S-EDM and the Z-EDM sinker. These high-performance wire electrical discharge machines complete with water bath, can copy, turn, flip, scale and rotate the working material to create a steady stream of tools and dies.
Manufactured in Taiwan and distributed throughout the U.S., the W-EDM S CNC series from KAAST offers users great surface quality combined with modern cutting technology, helping keep production effective and efficient. Offering automatic corner control functions for high geometric accuracy during production and automatic monitoring of the wire tension helps to ensure that tools are created quickly, without sacrificing precision.
Utilize the powerful 64-bit CNC with 2D/3D graphics, as well as the 6-axis machining for the most complex forms possible required for production. Production time is saved using the automatic wire threading (AWT) option. The high-quality AWT (copper wire Ø 0.006–0.012" with a water jet of Ø 0.04") makes manufacturing simple and effective.
The S-EDM series provides effective sink eroding with powerful flushing of the working area. The FC35-quality cast iron machine frame and reinforced worktable enable high-precision machining and heavy workpieces, while the integrated database allows for quick retrieval of all data and cutting parameters for various materials. This CNC sinker EDM series provides users the opportunity to access and edit technical parameters during the erosion process, as well as program during active use. Most convenient, all S-EDM models are available as ZNC versions, meaning each Z-EDM machine comes with a controlled Z-axis.
Related Glossary Terms
computer numerical control ( CNC)


computer numerical control ( CNC)

Microprocessor-based controller dedicated to a machine tool that permits the creation or modification of parts. Programmed numerical control activates the machine's servos and spindle drives and controls the various machining operations. See DNC, direct numerical control; NC, numerical control.

electrical-discharge machining ( EDM)


electrical-discharge machining ( EDM)

Process that vaporizes conductive materials by controlled application of pulsed electrical current that flows between a workpiece and electrode (tool) in a dielectric fluid. Permits machining shapes to tight accuracies without the internal stresses conventional machining often generates. Useful in diemaking.

threading


threading

Process of both external (e.g., thread milling) and internal (e.g., tapping, thread milling) cutting, turning and rolling of threads into particular material. Standardized specifications are available to determine the desired results of the threading process. Numerous thread-series designations are written for specific applications. Threading often is performed on a lathe. Specifications such as thread height are critical in determining the strength of the threads. The material used is taken into consideration in determining the expected results of any particular application for that threaded piece. In external threading, a calculated depth is required as well as a particular angle to the cut. To perform internal threading, the exact diameter to bore the hole is critical before threading. The threads are distinguished from one another by the amount of tolerance and/or allowance that is specified. See turning.