June 07, 2019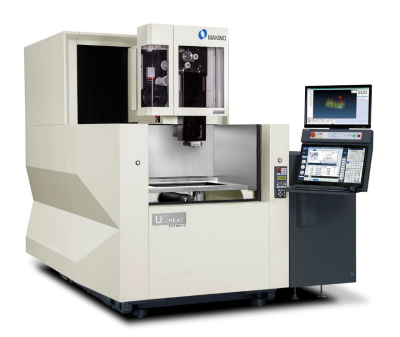 To be competitive in the marketplace manufacturers must continuously identify opportunities to improve efficiency and increase capacity while maintaining the highest level of quality. Makino is introducing a new wire EDM machine – U6 H.E.A.T. Extreme – that delivers these requirements with increased machining rates while maintaining traditional wire consumption.

The U6 H.E.A.T. Extreme features a 0.016" coated-wire technology that increases rough machining rates up to 300% compared to traditional 0.010" brass wire while maintaining comparable wire consumption rates of 0.6 ~ 0.7 lbs./hour. As a result, the new machine is able to improve rough machining speed without increasing manufacturing costs. The U6 H.E.A.T Extreme machine utilizes a new 0.016" Topas H.E.A.T. coated wire from Bedra, and settings for 2-Pass Machining have been developed to provide optimal productivity.

The U6 H.E.A.T. Extreme also features Makino's HyperDrive Extreme wire control system to improve machine speed and performance. The system uses an AC motor tensioning system that expands the range and stability of wire tension creating a reliable threading system for the 0.016" wire. The wire threading system provides both jet and jet-less threading modes and can rethread the wire in the gap at a break point when operating with traditional wire sizes. The machine also contains a robust machining conditions library that has been developed to provide an optimal mix of speed, accuracy, surface finish and low wire consumption for both sealed and poor flush applications. It utilizes dual digital flushing pumps that harness additional raw horse power to deliver higher pressure and volume of flushing to reduce rough-cut machining cycle time.
Additionally, to reduce maintenance intervals and costs the machine features long-life energizers, which dramatically extends the service life of this consumable service item. To improve ease of use and productivity, the U6 H.E.A.T. Extreme has the intuitive and revolutionary Hyper-i control that delivers a common interface and contains many helpful advanced functions to support every operator need. The machine also comes standard with the HyperConnect IIoT network connectivity function for remote machine monitoring and interconnectivity of all manufacturing information and is equipped with dual 24" Hyper-i screens that allow the operator to display and access any data or program directly at the machine.
Related Glossary Terms
electrical-discharge machining ( EDM)


electrical-discharge machining ( EDM)

Process that vaporizes conductive materials by controlled application of pulsed electrical current that flows between a workpiece and electrode (tool) in a dielectric fluid. Permits machining shapes to tight accuracies without the internal stresses conventional machining often generates. Useful in diemaking.

threading


threading

Process of both external (e.g., thread milling) and internal (e.g., tapping, thread milling) cutting, turning and rolling of threads into particular material. Standardized specifications are available to determine the desired results of the threading process. Numerous thread-series designations are written for specific applications. Threading often is performed on a lathe. Specifications such as thread height are critical in determining the strength of the threads. The material used is taken into consideration in determining the expected results of any particular application for that threaded piece. In external threading, a calculated depth is required as well as a particular angle to the cut. To perform internal threading, the exact diameter to bore the hole is critical before threading. The threads are distinguished from one another by the amount of tolerance and/or allowance that is specified. See turning.

wire EDM


wire EDM

Process similar to ram electrical-discharge machining except a small-diameter copper or brass wire is used as a traveling electrode. Usually used in conjunction with a CNC and only works when a part is to be cut completely through. A common analogy is wire electrical-discharge machining is like an ultraprecise, electrical, contour-sawing operation.