June 14, 2016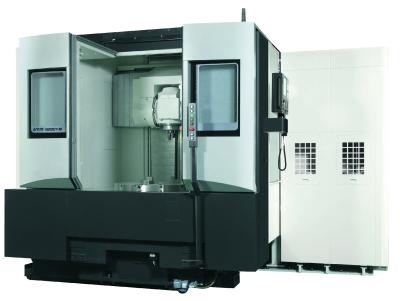 Okuma's VTM-1200YB multitasking CNC turning center is built to handle heavy-duty turning and cutting of large parts. The massive construction, extreme rigidity and powerful cutting capabilities of this machine make it ideal for machining large diameter workpieces, such as those in the aerospace and energy industries, according to the company.
The vertical design delivers high precision and accuracy and offers the advantage of "natural" part handling and excellent chip fall, while taking up minimal floor space. The VTM-12000YB cuts a variety of shapes, from turning to slope multitasking. It performs turning, vertical, horizontal and angled surface machining in one operation. The work spindle is supported at two locations by large diameter roller bearings that offer precise control for the production of complex parts. The high torque spindle is capable of sustaining heavy cutting that is necessary for large parts such as valve bodies.
This machine comes equipped with the new OSP-P300S control, Thermo-Friendly Concept to maintain thermal stability and Collision Avoidance System to prevent costly collisions.
Key Specs of VTM-1200YB CNC Turning Center
Max Turning Diameter 47.24" x 60.23 high
Lathe Spindle Speed min⁻¹ 5~500
Milling Spindle Speed min⁻¹ 10,000
Rapid Traverse (X/Y/Z) m/min (ipm) 32/32/32 (1,260/1,260/1,260)
Rapid Traverse (B/C) RPM 19.5/20