November 14,2019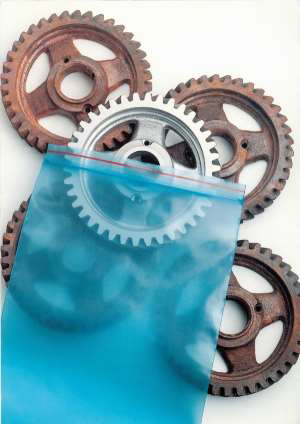 Automakers and parts suppliers know that the value of auto parts adds up quickly. They also know that corrosion throws an unwanted obstacle into the process of making parts and safely delivering them to the customer. Employees must do rework. Customers are unhappy. Shipments are returned. In a worst-case scenario, the goods are a total loss. Cortec's VpCI-126 top-quality film and bag technology is a welcome relief to avoiding corrosion problems and preserving value in the auto industry.
Unlike greasy corrosion inhibiting methods of the past, protection can be as simple as wrapping a clean auto part in a VpCI-126 bag, perhaps adding some VpCI emitters (depending on package size or expected conditions), and closing the bag for protection during storage or shipment. VpCI-126 film and bags have been used across the globe by major automotive manufacturers and their suppliers for storage and export of auto parts in corrosive conditions over land and sea.
Examples include:
• International export of transmissions
• Engine build-ahead program worth almost $2 billion (HP version used)
• Overseas shipment of SUV fuel tanks
• Six-month brake adaptor export
• Semi-assembled motorcycle parts packaging
• Storage of race car parts
VpCI-126 film and bags contain vapor-phase corrosion inhibitors that form a protective molecular layer on metal surfaces inside the enclosed package. The protective layer does not require special cleaning or degreasing before using the auto component. Metal parts packaged inside the film receive continuous protection against salt, excessive humidity, condensation, moisture, aggressive industrial atmospheres and dissimilar metal corrosion. VpCI-126 protects against all types of corrosion including rust, tarnish, stains, white rust and oxidation for up to five years.
VpCI-126 protects the following metals:
• Aluminum
• Galvanized Steel
• Carbon Steel
• Silicon Steel
• Stainless Steel
• Copper
• Brass
• Cast Iron
VpCI-126 is heat sealable and can be used with manual or automated heat-seal packaging equipment. VpCI-126 is available in versatile formats including heat-seal bags, top-seal (zipper) bags, gusseted liners, bags-on-a-roll, perforated sheeting, shrink film and tubing. VpCI-126 HP UV shrink film is another, heavier duty, option for outdoor storage.
There are countless ways to use VpCI-126 film and bags for corrosion protection. These can be combined with other VpCI products as necessary to provide fully integrated solutions tailored to the situation. The key is that VpCI-126 plays an integral role in achieving top-quality protection and simplifying corrosion prevention, helping
automakers and suppliers preserve valuable goods without difficult application or removal processes.
Related Glossary Terms
land


land

Part of the tool body that remains after the flutes are cut.

relief


relief

Space provided behind the cutting edges to prevent rubbing. Sometimes called primary relief. Secondary relief provides additional space behind primary relief. Relief on end teeth is axial relief; relief on side teeth is peripheral relief.