April 13, 2013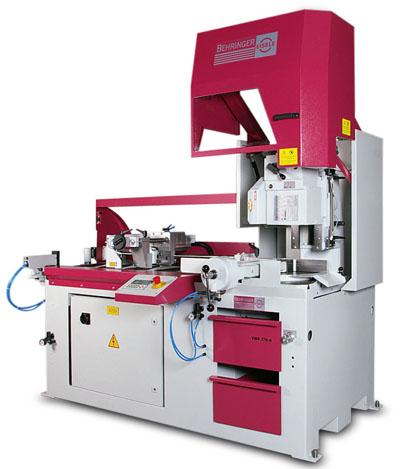 Behringer has introduced the new VMS 370A circular cold saw for precision straight and miter cutting of ferrous and non ferrous metals. The previously offered semi-automatic model required users to add a separate automatic feed unit. The new VMS 370A, however, is integrated with an automatic feeding unit to provide full automatic feeding functionality which saves on cycle time and assures efficient use of material. Programming the length of cut and number of pieces is enabled by the control unit keypad and LCD display.
The new circular cold saw has a 14.5"-diameter blade and will cut at a rotational speed of up to 64 RPM. The VMS 370A cuts various shapes of material: round (.39" to 5.1); square (.31" to 4.7"); and rectangular (.31" x .31" to 7.8" x 3.9"). To position the blade for mitering, the upper portion of the machine may be manually rotated. A smooth action bearing facilitates this process enhancing accurate angle adjustments. The material being cut remains stationary. Mitering range to the left is 45 degrees and 60 degrees to the right. Total miter range is 105 degrees with positive stops at 45 degrees in both directions.
"With a feed length of 31.5 inches per single stroke," said Richard Klipp, Behringer president, "the automatic feed process is very efficient and will reduce wasted material." Klipp also stated, "the material being cut is positioned by a ball screw driven gripper which promotes speed and accuracy." Klipp explained that the gripper is mounted on a robust linear guide that is pretensioned to eliminate play and help assure a smooth, accurate feed.
The VMS 370A saw head traverses vertically on two square guides mounted to a cast iron frame. This design gives rigidity to the saw head permitting sustained feed rate control. Consistently high downfeed pressure is facilitated through enhanced blade control and this helps maintain production rates at desired levels. A vertically raised protective hood assures safe operation and provides quick change access for changing the saw blade.
A heavy-duty gearbox and two-speed pole changing 2.6/3.4 HP motor drives a hardened and ground worm gear and a helical gear for blade downfeed control. Smooth cutting for nearly all grades of metal is enhanced with a shock absorbing feature that lets operators keep steady, uniform pressure on the blade. Integrated into the machine base is a re-circulating flood coolant system. An optional micro-spraying system may be activated from the control panel. Removal of chips is fast and easy with a chip drawer.
Related Glossary Terms
coolant


coolant

Fluid that reduces temperature buildup at the tool/workpiece interface during machining. Normally takes the form of a liquid such as soluble or chemical mixtures (semisynthetic, synthetic) but can be pressurized air or other gas. Because of water's ability to absorb great quantities of heat, it is widely used as a coolant and vehicle for various cutting compounds, with the water-to-compound ratio varying with the machining task. See cutting fluid; semisynthetic cutting fluid; soluble-oil cutting fluid; synthetic cutting fluid.

feed


feed

Rate of change of position of the tool as a whole, relative to the workpiece while cutting.

sawing machine ( saw)


sawing machine ( saw)

Machine designed to use a serrated-tooth blade to cut metal or other material. Comes in a wide variety of styles but takes one of four basic forms: hacksaw (a simple, rugged machine that uses a reciprocating motion to part metal or other material); cold or circular saw (powers a circular blade that cuts structural materials); bandsaw (runs an endless band; the two basic types are cutoff and contour band machines, which cut intricate contours and shapes); and abrasive cutoff saw (similar in appearance to the cold saw, but uses an abrasive disc that rotates at high speeds rather than a blade with serrated teeth).