December 28, 2017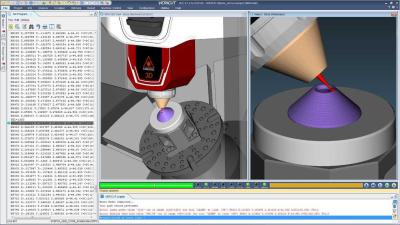 CGTech is shipping version 8.1.2 of VERICUT CNC machine simulation and optimization software. In addition to new features making it more powerful and easier to use, more than 150 customer-driven enhancements and software requests have been implemented in version 8.1.2.
"We have thousands of customers and their needs vary greatly," said CGTech VERICUT Product Manager Gene Granata. "VERICUT is designed to meet the needs of all types of shops – from the small job shop with simple parts, to the OEM and Tier 1 supplier that regularly pushes the limits of CNC technology. VERICUT is constantly refined to provide the flexibility and tools our customers need."

VERICUT is CNC machine simulation, verification and optimization software that enables users to eliminate the process of manually proving out NC programs. It reduces scrap loss and rework. The program also optimizes NC programs in order to both save time and produce higher quality parts that are dimensionally more accurate, and have better surface finish. VERICUT simulates all types of CNC machine tools, including those from leading manufacturers such as DMG MORI, Mazak, Makino, Matsuura, Hermle, DIXI, and Chiron. VERICUT runs standalone, and easily integrates with all leading CAM systems such as Catia, NX, Creo Parametric (Pro/E), MasterCAM, PowerMill, EdgeCAM, hyperMILL, ESPRIT and GibbsCAM.

Additive material deposition can now be seen in VERICUT's Reviewer and NC Program Review. Additive errors and red error color are applied to deposited material when any of the additive functions being checked are not compliant, making it easy to spot potential problems in additive processes. A single click identifies the error source.

Users can optimize more complex NC programs, including looping, branching, IF/THEN, and DO-WHILE code, while retaining all decision-making logic. Optimized NC programs and subroutines are ready to run with no edits by the user. Force Charts that graphically document the cutting process are enhanced with higher fidelity, so they can display even tiny material volumes and forces encountered.
Other improved features in 8.1.2:

Ability to stop at specific variables when they are set, or changed.

Options for automatically performing AUTO-DIFF comparisons, and output summary of AUTO-DIFF results to VERICUT reports.

Support added for 3DEXPERIENCE 2017X, ESPRIT 2017, NX12.

New calculation and reporting of Die Sinking electrode contact areas.

VERICUT Help Library and supporting documents in HTML- this allows for easier navigation, faster searching, and viewing higher quality images at a larger size.

Enhanced VERICUT and Tool Manager support non-rotating 3D model tools, such as used in ablation, painting, polishing, and other specialized manufacturing processes.

Enhanced integrations with Zoller and TDM tooling databases to provide access to complex 3D tooling, and ability to select and deselect specific tools for import.