November 13, 2013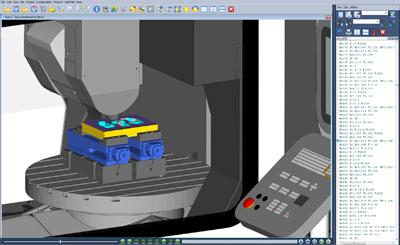 CGTech is shipping version 7.3 of VERICUT CNC machine simulation and optimization software. VERICUT 7.3 features many enhancements that significantly improve performance thereby simplifying manufacturing engineers' ability to simulate the CNC programming and machining process. Changes to how users interact with VERICUT further improve VERICUT's workflow, and are a direct result of CGTech's philosophy of continuous product improvement.
"We have thousands of customers and their needs vary greatly," said CGTech Product Marketing Manager Bill Hasenjaeger. "VERICUT has been designed to meet the needs of all types of shops – from the small job shop with simple parts, to the OEM and Tier 1 supplier that is regularly pushing the limits of CNC technology. VERICUT is constantly refined to provide the flexibility and tools our customers require."
VERICUT is CNC machine simulation, verification and optimization software that enables users to eliminate the process of manually proving out NC programs. It reduces scrap loss and rework. The program also optimizes NC programs in order to both save time and produce higher quality surface finish. VERICUT simulates all types of CNC machine tools, including those from leading manufacturers such as DMG-Mori Seiki, Mazak, Makino, Matsuura, Hermle, DIXI, and Chiron. VERICUT runs standalone, but can also be integrated with leading CAM systems such as Catia, NX, Creo Parametric, MasterCAM, PowerMill, EdgeCAM, hyperMILL, Esprit, GibbsCAM, and surfcam. The VERICUT user interface is very customizable. In version 7.3, the first thing a user will notice is the all-new icons, available in multiple sizes. There are also several user-selectable color themes, and every window and icon can be optionally displayed or hidden.
User-configurable "favorites" further simplify setting up a simulation session. Favorites can consist of commonly used folders and files, and each item can be drag/dropped into a project.
To help objects stand out in the machine simulation scene, an "Edge Display" option analyzes models on-the-fly and finds and displays their edges, all without affecting simulation speed.
During simulation, a user can create a list of "Stop At" events. These events, such as "Collisions," "Warnings," "Tool changes" or "End of each setup," can be managed interactively in the NC program dialog. The user can add, move, remove, or temporarily disable the events that pause the simulation.
Version 7.3 performance is now 5-10x (or more) faster when the NC program moves the simulated machine into potential collision conditions. A significant in-house development effort produced enhancements to VERICUT industry leading collision algorithms, removing the need to adjust complex machine models to improve performance.
Related Glossary Terms
computer numerical control ( CNC)


computer numerical control ( CNC)

Microprocessor-based controller dedicated to a machine tool that permits the creation or modification of parts. Programmed numerical control activates the machine's servos and spindle drives and controls the various machining operations. See DNC, direct numerical control; NC, numerical control.

computer-aided manufacturing ( CAM)


computer-aided manufacturing ( CAM)

Use of computers to control machining and manufacturing processes.

numerical control ( NC)


numerical control ( NC)

Any controlled equipment that allows an operator to program its movement by entering a series of coded numbers and symbols. See CNC, computer numerical control; DNC, direct numerical control.