July 01, 2011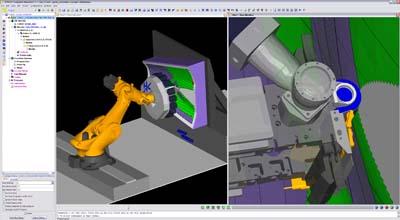 CGTech is now shipping the next major version of its composite applications: VERICUT Composite Programming (VCP) & VERICUT Composite Simulation (VCS). VERICUT Composite Applications are being used by leading manufacturers to program and simulate automated fiber placement machinery from machine tool builders such as, Electroimpact, mTorress, Mag, and others.
"When software is separate from the machine and applied in a variety of applications, the software and underlying technology expands," said Product Marketing Manager Bill Hasenjaeger. "Thanks to extensive feedback from both users and industry partners, both VCP and VCS have seen significant enhancements since the last release. For example, VCP now has enhanced 'batch' processing capabilities, significantly reducing the time required to make changes to one or more plies. VCS has been enhanced with several new measurement tools and the ability to simulate ultrasonic knife cutting."
VCP reads CAD surfaces and ply boundary information and creates fiber-placement paths to fill the plies according to user-specified manufacturing standards and requirements. Layup paths are linked together to form specific layup sequences and are output as NC programs for the AFP machine.
VCS reads CAD models of the layup tool and fixtures and simulates the layup sequence directly from NC program files, either from VCP or from other composite layup path-generation programming applications. Tow material is applied to the layup form via NC program instructions in VERICUT's virtual CNC simulation environment. The simulated material applied to the form can be measured and inspected to ensure the NC program follows manufacturing standards and requirements. A report showing simulation results and statistical information can be automatically created.
Related Glossary Terms
computer numerical control ( CNC)


computer numerical control ( CNC)

Microprocessor-based controller dedicated to a machine tool that permits the creation or modification of parts. Programmed numerical control activates the machine's servos and spindle drives and controls the various machining operations. See DNC, direct numerical control; NC, numerical control.

computer-aided design ( CAD)


computer-aided design ( CAD)

Product-design functions performed with the help of computers and special software.

numerical control ( NC)


numerical control ( NC)

Any controlled equipment that allows an operator to program its movement by entering a series of coded numbers and symbols. See CNC, computer numerical control; DNC, direct numerical control.