October 13, 2012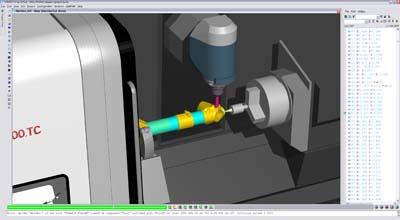 The newest version of VERICUT software is available globally from CGTech. VERICUT is used worldwide to simulate all types of CNC Machines including leading brands such a Mazak, DMG/Mori Seiki, Makino, Matsuura, Chiron and Heller.
VERICUT 7.2 features many enhancements to improve speed, thereby reducing the time required for manufacturing engineers to develop, analyze, inspect and document the CNC programming and machining process. Along with proactively adding new features, CGTech developers and engineers have focused on implementing hundreds of customer-driven enhancements.
"For VERICUT 7.2 we continue to focus on the customer's use of VERICUT and how we can improve the simulation process effectiveness," said Bill Hasenjaeger, Product Marketing Manager. "We added features to the user interface to simplify the most common user actions and invested significant developer hours to increase speed by more thoroughly taking advantage of multiple processors and background processing."
Another new feature is the ability to optimize a NC program from a saved simulation. Users can adjust and re-optimize without rerunning the simulation. A new interactive panel displays cutting conditions immediately, anywhere in the machining process. The user can navigate the NC program to evaluate cutting conditions and quickly see the results of adjustments to optimization settings.
VERICUT runs standalone, but can also be integrated with leading CAM systems from Siemens PLM Software (NX), Dassault Systemes (CATIA), PTC (Creo Parametric), CNC Software (MasterCAM), Vero Software (EdgeCAM), OpenMind (hyperMILL), Delcam (FeatureCAM and PowerMILL), DP Technology (Esprit), Cimatron Group (CimatronE and GibbsCAM), and more. Version 7.2 includes more than 100 CAD/CAM interface updates, making setup fast and efficient. With an interface to VERICUT, the user's stock, fixture, and design geometry is automatically transferred to VERICUT in the correct orientation, along with the NC program, tooling, machine and control data and other simulation parameters. After the transfer, it is only one-click to start simulating.