December 11, 2019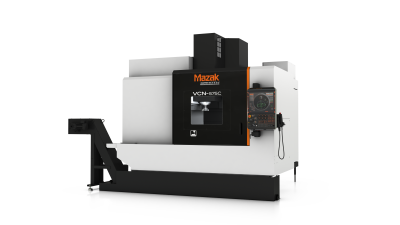 Mazak Corp.'s VCN-575C vertical machining center brings advanced technology, performance and value to heavy-torque machining applications. Made in Kentucky, the machine features a traditional C-frame design, vibration damping, rigid base and headstock/column castings for extreme stability.

A high-torque 50-taper spindle gives the machine the strength and power for aggressive metal removal in tough-to-machine materials. The 30-hp spindle delivers speeds up to 6,000 rpm.
The VCN-575C is a standard single-table 3-axis machine with an optional 4th-axis NC rotary table. With table right/left dimensions of 51.180" (1300 mm) and height of 22.440" (570 mm), the machine easily handles medium to large workpieces. Plus, a fast traverse rate of 1,654 ipm in the X, Y and Z axes, which measure 41.34" (1,050 mm); 22.44" (570 mm) and 20.08" (510 mm) respectively, contributes to the machine's productivity.
The VCN-575C comes standard with a 24-tool magazine, and the machine's high-speed automatic toolchanger (ATC) is servo-driven for fast and reliable operation. Tool changes occur in 5.2 seconds to significantly reduce non-cut times and get spindles back in the cut in the shortest times possible. Such speed is possible because the ATC always takes the quickest route to the next needed tool position.
The VCN-575C is equipped with the Mazatrol SmoothG CNC. The innovative programming, performance and monitoring functions, as well as the ability to use both EIA/ISO and conversational programming bring optimal speed and accuracy to complex part production. Advanced hardware – including a pivoting CNC panel and intuitive, 19" multiple-touch LCD control screen – allows for complete ease of use, while an optional CFast memory card can store up to 32GB of program data.
To enhance productivity even further through increased uptime and lights-out production, the VCN-575C seamlessly integrates with a wide range of automation solutions.