December 11, 2019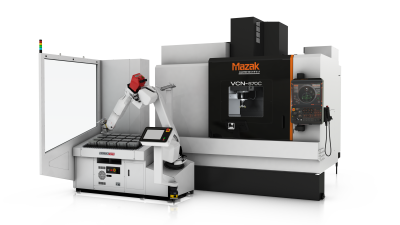 Mazak Corp.'s Kentucky-built VCN-570C vertical machining center paired with an integrated automation package and equipped with the company's Smooth Synchronous Tapping Software. Designed to process large parts or multiple small workpieces in single machine setups, the VCN-570C brings advanced technology, performance and value to an expansive range of metalworking applications.
The VCN-570C can be optionally equipped with a robot interface, servo-driven automatic door and pneumatic fixture preparation to automatically clamp Schunk vises mounted in the machine. The machine also can incorporate a RoboJob TA200 automation package that includes a FANUC M20 articulating robot with a 44.1-lb. (20 kg) payload capacity, touch screen operator control and dedicated loading/unloading station.
The robot's dual two-jaw grippers accommodate parts ranging from 0.39" to 5.90" (10 mm to 150 mm) in diameter, while the system's fixed table can be configured with either workpiece supports or grid plates, depending on the application. The table and robot are unguarded and continuously monitored by an area scanner, which allows for easy operator access to load/unload parts from the table.
To ensure fast, accurate hole threading, the VCN-570C demonstrated Mazak's Smooth Synchronous Tapping Software as part of its SmoothG control. With the software, the machine generates faster acceleration/deceleration with maximum spindle torque utilization. It does not overshoot at the bottom of a hole, and a faster time constant is
used that reduces overall tapping cycle times.
Mazak's Mazatrol SmoothG CNC offers the flexibility of both EIA/ISO programming and Mazatrol conversational programming that makes it fast and easy to generate programs for quick changeover or handle high-production part applications. The control features advanced hardware and software functions such as Intelligent Pocket Milling software, which enables fast metal-removal rates in recessed pockets along with High-Gain Feed Forward Control, Variable Acceleration Control and Smooth Machining Configuration (SMC) for high-speed machining applications.

The VCN-570C's 22.440" (570-mm) Y-axis stroke and 51.2" (1300 mm) operator door opening further increases part size, ease of part loading and processing versatility. Additionally, the machine comes equipped with a standard crane access door to allow loading of heavy parts more efficiently. Also contributing to the 3-axis machine's productivity are a fast traverse rate of 1,654 ipm in the X, Y and Z axes.