December 16, 2020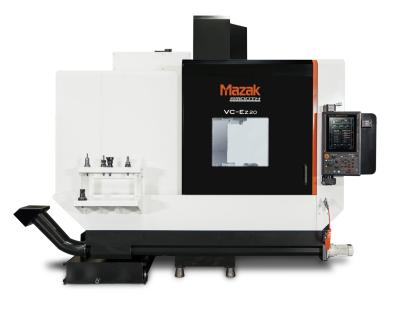 To provide job shops reliable, maximum machine-tool performance at a lower capital investment, Mazak has launched the new VC-Ez Series of 3-axis vertical machining centers designed and built in Kentucky. Featuring the company's new MAZATROL SmoothEz CNC and optimized for simple operation as well as fast and easy installation, VC-Ez machines offer enhanced ergonomics, stable and reliable part processing and long-term dependability.
The VC-Ez Series begins with Mazak's introduction of the VC-Ez 20, and soon will include both smaller and larger machines, the VC-Ez 16 and VC-Ez 26. All VC-Ez Series machines sport C-frame designs with X and Y axis motion via moving tables and saddles. For rigidity and repeatable part precision, guideway systems use Mazak's high-rigidity MX linear roller guide systems, and pre-tensioned ball screws ensure precise axis movement. Auger-type chip removal systems provide economical operation, with the option of affordable hinge-type chip conveyors that ship affixed to the machines that eliminate the need and cost of a second shipping pallet.
To streamline VC-Ez machine programming and shorten the learning curve for new operators, Mazak's new MAZATROL SmoothEz CNC provides dual 800 MHz processors, 512 MB of RAM and a vibrant 15" capacitive touch screen that includes a full keyboard and displays up to 60 lines of code. Within the control, EIA/G-code and MAZATROL programming languages support a full range of programming options directly on the machine, while the MAZATROL TWINS function enables use of Solid MAZATROL, Virtual Machining and Cutting Adviser through Smooth Cam Ai and centralized storage and file management through Smooth Project Manager.
The MAZATROL SmoothEz control also features Mazak's new LAUNCHER interface, accessible in every screen providing one touch selection to any required screen selection for seamless operator navigation. To further streamline programming, the control's QUICK MAZATROL function simplifies program creation and confirmation through touch screen editing and confirmation of 3D models.
For part size flexibility, axis travels on the VC-Ez 20 measure 41.34" in X, 20.08" in Y and 25" in Z that allow the machine to accommodate maximum workpiece sizes of 49.21" long, 19.37" wide and 22.4" tall and weighing up to 2,204 lbs. All within an ergonomically designed machine that has a 26.5 percent smaller footprint as compared to other models and one that measures only 102.65 sq-ft for significant floor space savings.
In particular, the VC-Ez 20 features a powerful 40-taper, 12,000-rpm, 25-hp spindle and 30-tool magazine automatic tool changer. Options include a versatile 15,000-rpm, 29.5-hp spindle with 81.13 ft-lb torque and a 50-tool capacity tool changer.
Shops also can opt for various rotary tables, filter trays, dual probe kits, through-spindle coolant, Niagara coolant and Mazak's SUPERFLOW 1,000-psi high-pressure coolant systems. With programmable coolant nozzles controlled via M-code or from a separate panel, the machine provides hands-free nozzle adjustment, 180°+ range of motion and precision teaching for every tool.
For enhanced operator ergonomics, the VC-Ez 20 sports a floor-to-worktable height of only 41.10" and only 32.57" between the machine exterior and the spindle, making for easy part and tool loading and unloading. Top access on the machine sets only 3.3" from table center to allow for crane-loading parts, while machine doors open wider than table lengths for ample load/unload clearance from the front. To further increase productivity and conserve shop floor space, the VC-Ez Series machines incorporate Mazak's Ez Tool Station to store tools outside the machine, often eliminating the need for separate tool carts.
Shops can preview all aspects of VC-Ez Series machines and the MAZATROL SmoothEz CNC on the newly launched Ez Series website at https://www.MazakUSA.com/Ez, which provides focused access to information about Mazak's newest product line.